As we approach the end of the 2022 calendar year, it is time to line up the good stuff and see what among it stands out. As with previous years, there are three main rules, all interpreted as loosely as necessary to highlight the most cool gear. Here they are:
The item must be new.

The item must have been released in 2022.

Once selected for a given category, an item cannot win again.
By "new" I mean that it is new in some way. If there a good knife with new steel, I'd be tempted to say no, but depending on the steel and the knife, I could be persuaded otherwise. Similarly, I am not too strict on the 2022 rule. For example the Urban EDC Supply Baby Barlow 2.0 had a prototype released (and reviewed here) last year, but the full scale production version wasn't available until 2022. That's good enough for me.
One side note, while there are obviously some highlights in 2023, this has been a pretty awful year for gear. Flashlights got mega weird. Knife companies that have been stalwarts of the industry since the 1980s basically stopped making new stuff. And some companies that have been lost in the wilderness for while got even more lost. I am not sure when we will see new and promising stuff from Spyderco, Surefire, Kershaw, ZT, and a few others. To paraphrase Tom Bodet, I'll keep the light on, but that bulb is about to go out.
Best Overall: Urban EDC Supply Baby Barlow 2.0
The prototype was superb, one of the best knives I have reviewed in a very, very long time. The production model was better. Clever touches, like the hidden logo, and better deployment were a real reward for the weight. A practically perfect EDC for those that know that big knives are dumb, this is EXACTLY what a Stag covered Case was 90 years ago—a classy, upgraded tool that still can do real work without being excessive. In a pretty down year, the Barlow 2.0 shined like a beacon. It is also proof that no one follows and sets trends in the EDC world better than Urban EDC right now.
Runners Up: CJRB Pyrite, Bestech Tonic, Focusworks F3, CRKT Squid II
Best Value: Knaf Co. Lander
If you are a true knife nerd, someone that really gets jazzed up about well-done ricassos or subtle but excellent handles, the Knaf Co. Lander is for you. There are a half dozen very nice details on this budget blade that make it stand out from the horde of el cheapo cutters on Amazon. The great thing is that the design perks come at no extra cost. While this is the same price as a Delica when I started the blog, $58 is definitely budget blade in 2022. For Knafs Co. this is a clear case of "Begin as you mean to go on…"
Runners Up: CJRB Pyrite, Spyderco Uptern, CJRB Scoria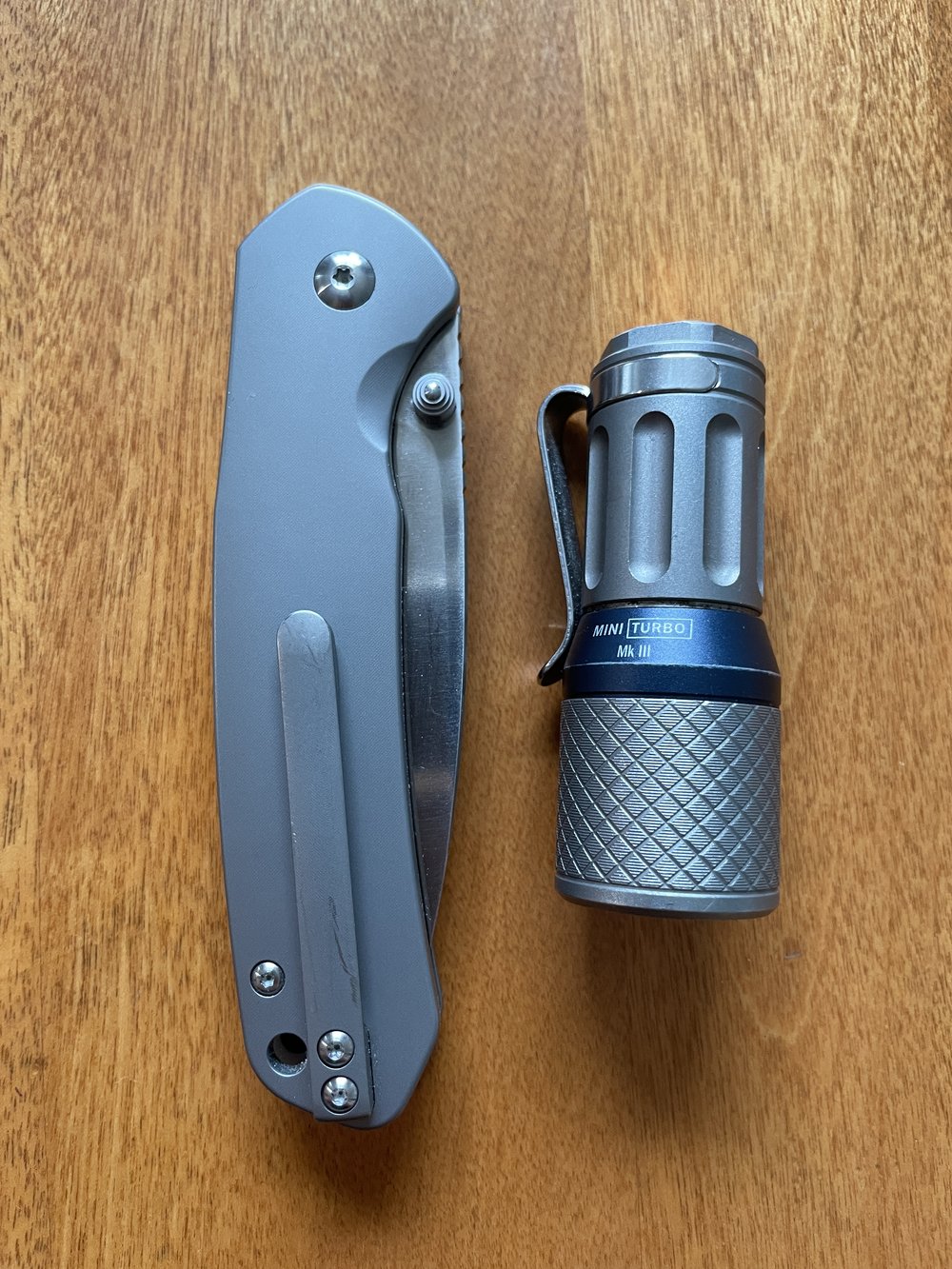 Biggest Surprise: CRKT Squid II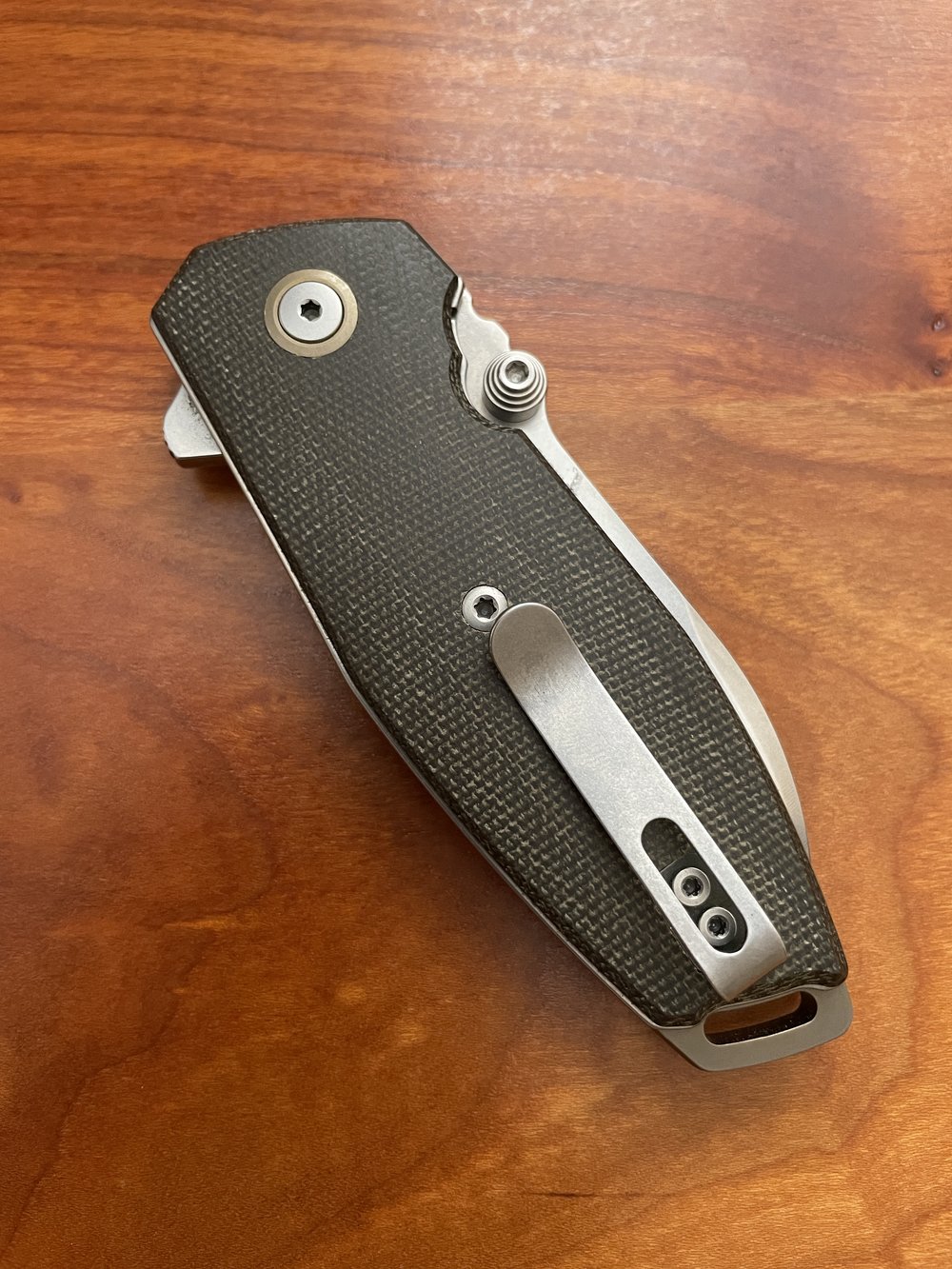 CRKT has been working hard to expand its enthusiast options and thus far it has been met with what can best be described as mild success. While ZT revitalized Kershaw (for a while, at least), the premium CRKT knives have been relatively low impact. A combination of more obscure designs and weird specs (like the all copper handled knife that weighed half a pound), they have been getting closer to having a bonafide hit on their hands, but it seemed elusive. As a brand that works exclusively with OEMs and has no in-house capacity, lining up design, materials, manufacturer, and price is really challenging. Then they dropped the Squid II. With an Italian OEM, the fit and finish are very good. The materials—green micarta or carbon fiber along with M390–leave nothing to complain about. But it is the design, a Lucas Burnley masterpiece (as if there is any other kind of Burnley design), that really rounded out the piece. This is a high "it factor" knife. All of this lead me to really enjoy the Squid II. I assumed that it bumped along at around $300 and felt it was well worth it. Then I saw the price tag, $185 MSRP, and I was stunned—some would say surprised. This is a great knife that is, in an age where this is as common as Amur Leopard, a great value. Insert Gomer Pyle GIF here.
Runners Up: Oeser F22, Bestech Tonic, Knaf Co. Lander, CJRB Scoria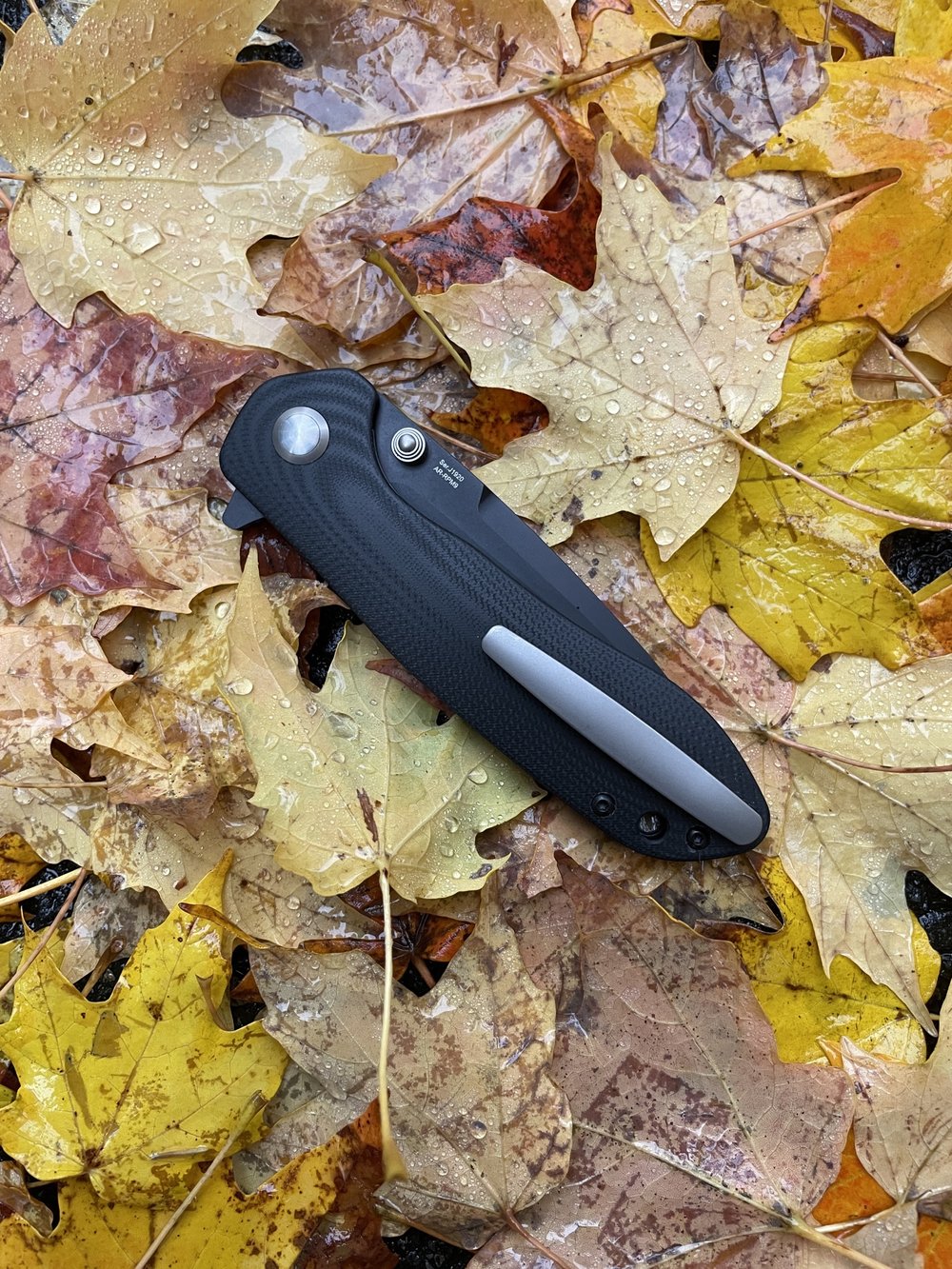 Most Innovative: Bestech Tonic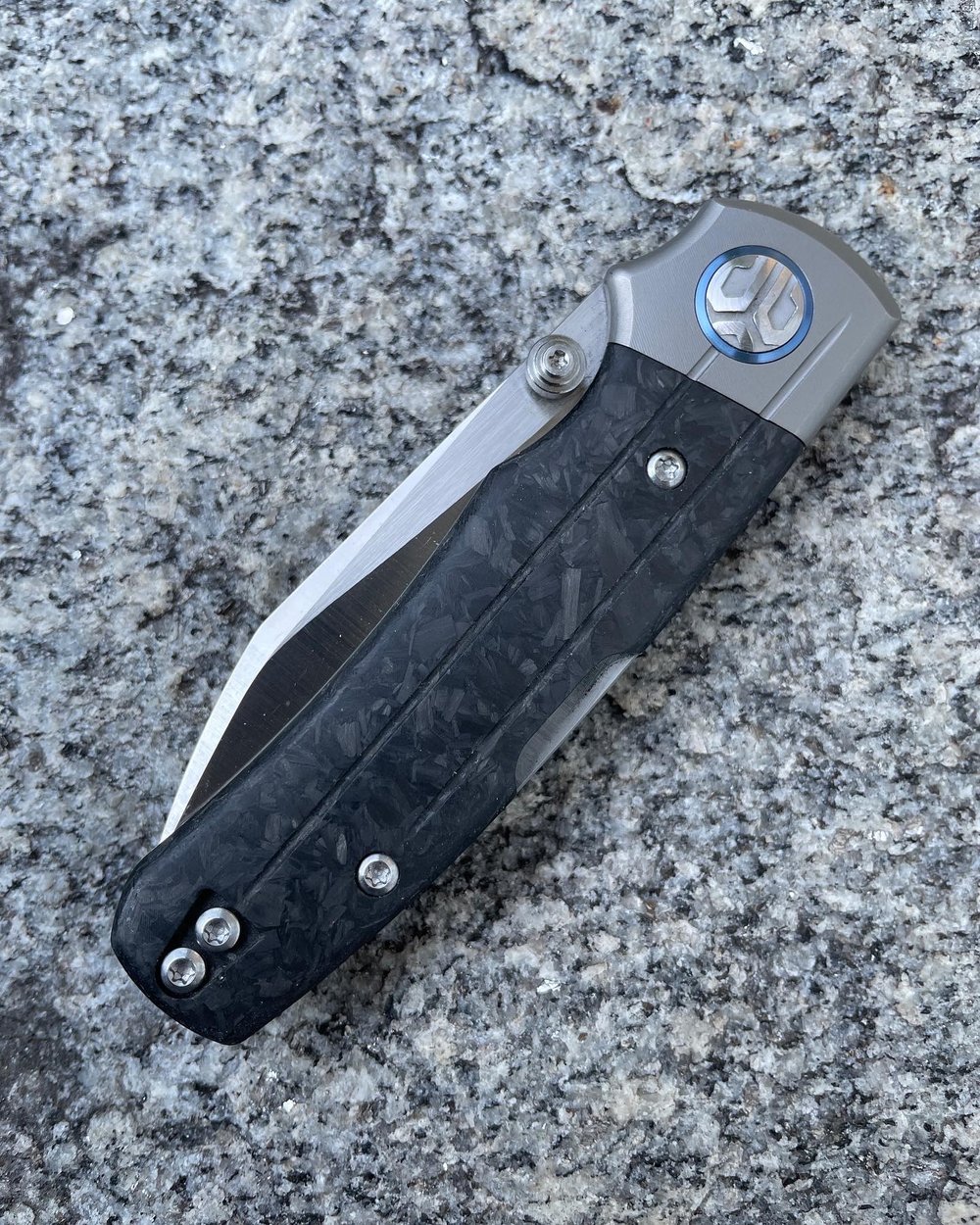 This is a subtle innovation, but often those are the most important ones. When Michael Walker invented the liner lock it didn't have a detent. The lock bar pressure was tuned to make deployment easy, but not have the blade flop out of the blade well. It worked but it required a huge amount of skill and patience (in other words: only Michael Walker could make it work). He added the detent and viola—knives are better. Interesting side note, he didn't add the detent to make it easier to produce knives, he just didn't like the snail trails the lock bar left around the knife's pivot. But without that small tweak flippers would be virtually impossible without a spring assist or a ramp detent like Brian Nadeau developed.
Here Colin's idea to add a bearing to the lock arm makes the wonderfully simple and universal lock back smoother and more easily deployed. Its not EXACTLY like a good liner lock, but it is 98% the same. Given the handedness issues the lock back fixes, that seems like a very good design trade to make. This is a superior design in everyway to the original and positively ancient lockback. Changing basic and familiar designs to make them better is always a good thing (think of the two legged chair—aka the cantilevered chair).
Runners Up: SOG Flash MT, Alpha One Niner Evade 1.5, Four Sevens MX3F
Knife of the Year: Oeser F22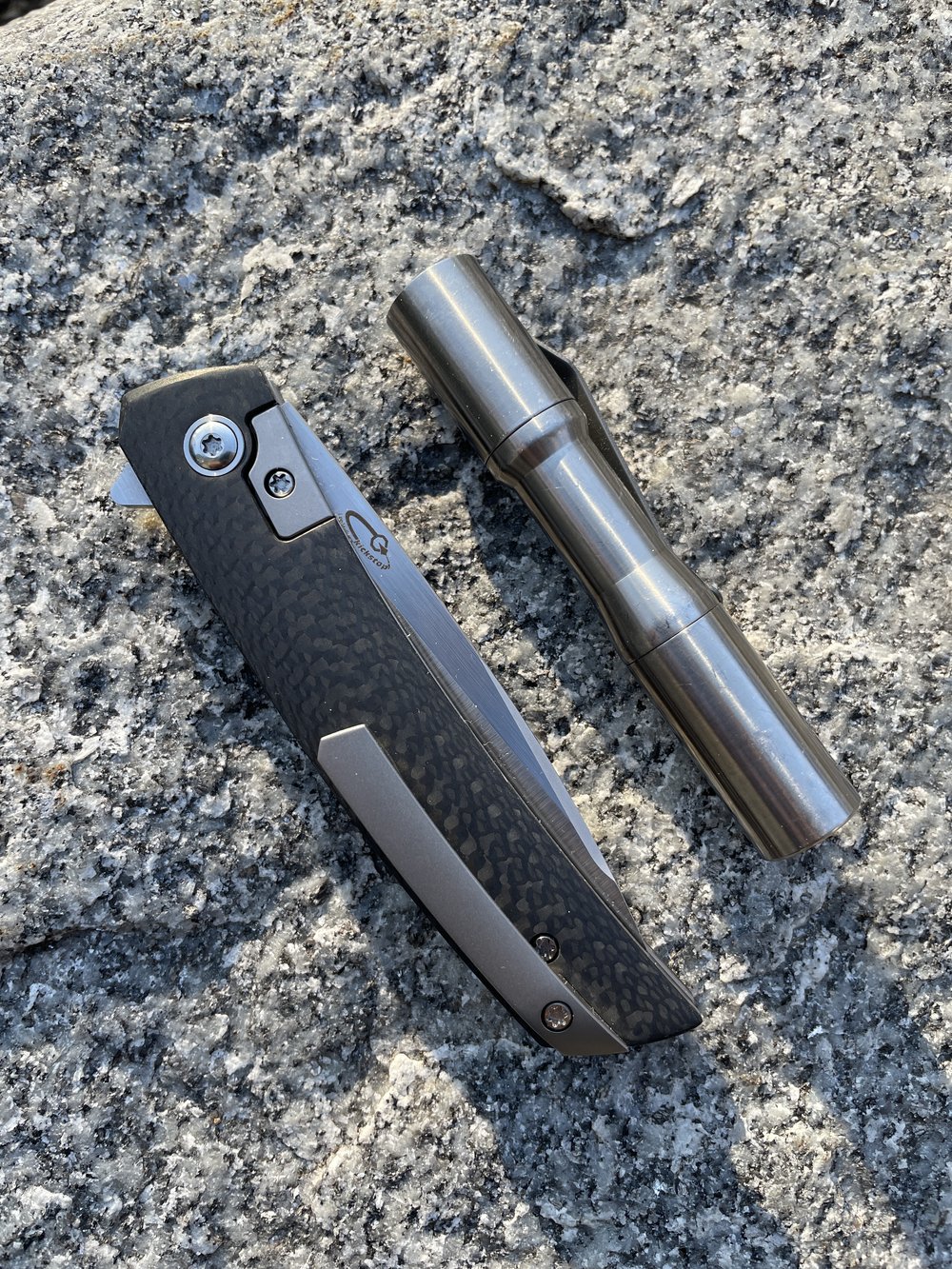 This is a BIG knife. Like much bigger than it needs to be. It has the Kickstop flipper design, which works, but also seems more than it needs to be (see: Vero's flipper design). Despite all of this excess though, this is a beautiful knife, with exquisite lines, superb fit and finish, and excellent in-hand feel. Its just too big to win the top spot.
Runers Up: Bestech Tonic, Urban EDC Supply Baby Barlow 2.0, CRKT Squid II
Light of the Year: Focusworks F3
This is a comestic change mostly, but the F2 is truly great—a modestly priced but exceedingly capable torch made in tiny batches. In a year where flashlights got weird (see the Arkfield) or boring (see Fenix, Nitecore, oLight…), the Focusworks was a bright spot (oh the puns…). Its funny how simple, robust tools are better and more appreciated than complex jank. Over and over again, reviews have taught me this lesson and it is nice to see designers embracing that instead of opting for gadget light designs.
Runners Up: Four Sevens MX3F, Wurkkos TS 10, Acebeam TK17
Best of the Rest: Alpha One Niner Evade 1.5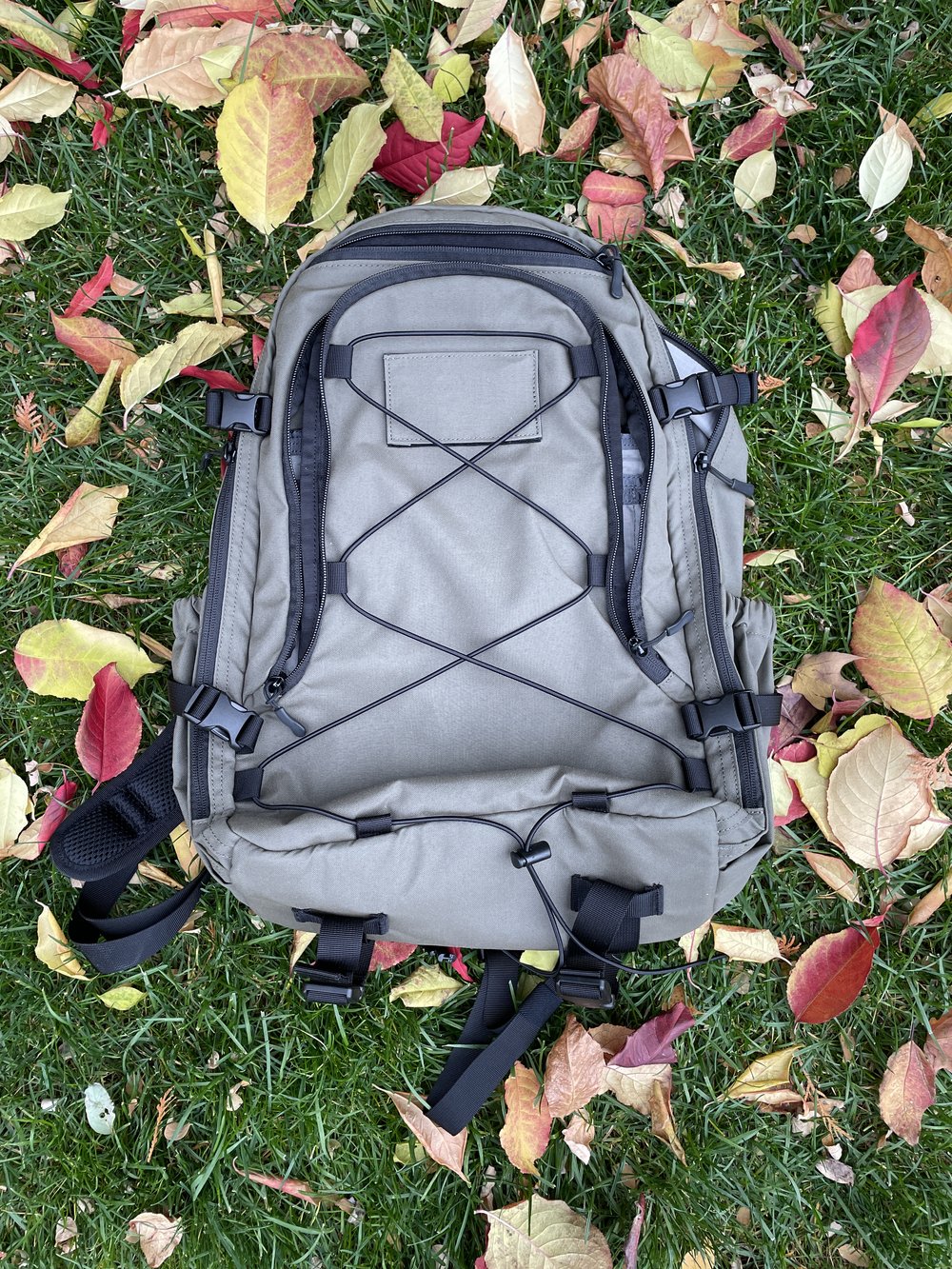 I am not sure when this came out, but let's pretend it was 2022. I needed a new pack this year and I fell down the rabbit hole on packs for the first time in a while and unlike the rest of the gear world, packs are cruising at new heights and companies are dropping stuff at very reasonable prices. The review is still a bit of a way off, but my first four months prove to me that this pack can do just about everything but serious mountaineering well. For a person like me, you don't need much more. And it is a bargain at $150. Why can't knives be more like packs.
Runners Up: SOG Flash MT (oooo….this was VERY close), TorchLab's MOFF switch, Tactile Turn Slim Side Click
Marshall Hoots/Derrick Bohn Community Members of the Year: Les and Marianne Halpern
If you know them you know why this is a slam dunk, if you don't let me explain. Its not an overstatement to say that the best production knives in the world are made in Massachusetts. Their folders are consistently among the best. They are made here in the US. There are real folks standing at real machines making really great stuff. Its because of these two. If there is a face of the renaissance in American Manufacturing or proof that the US can beat anyone at any time, the Halperns are living proof. Their connections and support of the knife industry are second to none. They are incredibly responsive. And, for the first time since TMR launched its first knife, they have regular stock. Now I don't mean permanent stock, but they are making enough stuff that if you want to, you can snag a TRM knife. They are also something of an entreprenaurial role model for me. As I embark on my fourth year as a small business owner, I can think of five or six different conversations with Marianne or Les or both where their pearls of wisdom helped me approach and solve a problem. Knowing what's coming in 2023, I am pretty excited for TRM and the IKC in general. Notice I didn't mention their amazing folders, like the Neutron 2, the Nerd, the Shadow, or the Atom? That's because this is about the Halperns. Their better people than their knives are good knives, and that is saying quite a bit given how good their products are.
Best Youtube Channel: JB Outside
This is a hold over from my pack search and boy does this guy make great videos. Its a nice change of pace from the hands-and-table-top reviews that most of the knife community does. He also has access to a metric TON of gear. Despite his bevvy of choices he still keeps things somewhat normal and focuses on design and value. I like design and value, too.
Amazon Links
CJRB Pyrite
Knafs Co. Lander
Spyderco Uptern
CJRB Scoria
SOG Flash MT
Wurkkos TS 10
Acebeam TK17