If you have read this site for a while you know that I try to keep what I carry to the bare minimum. I carry a small knife, a small flashlight, and a pen in addition to the stuff everyone carries (watch, wallet, keys, and phone). I have been able to get along with just that stuff for years. But recently I added a pair of Beats Fit Pros to the set up and I am slowing coming around to the fact that a good set of Earbuds with flawless connectivity just might pass the EDC test:
Carry + Price < Utility
This post is a twofer—an analysis of wireless earbuds as EDC and an unsuited review of the Beats Fit Pros.
There are a few caveats here that apply to me when deciding whether to add them or not. First, I live in a small town in Massachusetts. My commuting is exclusively by car. If I were taking mass transit, these would be in my EDC already. When I was in law school commuting into Boston by the T on a daily basis, I always had a pair of earbuds with me (Bang and Olufsens that were wired and had no noise cancelling). Without that use case though, it has been years since I carried a pair of headphones. Second, with COVID restrictions going away I have started to work a bit more on the road. Bouncing from court to court has given me the chance to go to a coffeehouse and get work done without the need to commute back to the office. That has changed the EDC calculus on the earbuds in their favor as well. Last, I have mostly Apple products—iPhone, iPad. This makes the H1 chip integration much, much more valuable to me. I had a pair of Amazon earbuds and while they were okay, the clunky Blutooth integration made sure they always failed the EDC Test. H1 connectivity, on the other hand, is a huge upgrade.
Pros
I do like listening to music, especially when I am out walking around by myself or when I am working (different music, obviously—walking is an eclectic mix, while working gets all symphonic music). But I am also a huge fan of just the plain old noise cancelling mode. The Beat Fit Pros are super easy to use with both a button and Siri activation, so turning the noise cancellation on and off, is quite nice. Being able to control my entire phone with it in a bag or out of the way is also a plus in terms of productivity. I have zero urge to check email, IG, or fart around playing a game. I know I could get some audiophile grade headphones for better sound, but I am not doing focused listen when I am using earbuds, and those ear buds don't have H1 integration or voice control, so I am not interested. If it were just the case that I wanted to listen to music, I don't think the Beats Fit Pros would pass the EDC Test. As a device to control my phone, block out noise, AND listen to music, they come close to passing the test. I also found call quality and sound isolation during calls to be excellent.
The big difference between the Beats Fit Pros and every other earbud I have tried is the fit. It took me a bit of time to figure out the right tip size and how to put them in my ear, but once I got everything set up correctly, they just lock in. They are so light and so locked in that I can do lifting, pulling, and bending type yardwork and they just stay put, even when I get sweaty (they are IPX 4 rated which means they can resist splashes and make my flashlights feel better about themselves as they are at least IPX 8). The fact that the Beats Fit Pros have great noise cancellation, H1 integration, and a superior fit to the Apple AirPod Pros makes them an easy choice for me. I got mine on sale making them $80 cheaper than the Pros.
Cons
I get that the charging case has to be bigger because it has a battery in it, but the 80Beats Fit Pro case is pretty chonky. Its basically twice the thickness of a Zippo, meaning it is hard to discretely fit in the pocket of a pair of pants. The charging port is USB-C, which I prefer over all alternatives, but it does mean I need to carry two charging cables as my iPhone runs on Lightning still. Time will fix this issue. One issue time won't fix, is the exceptionally narrow access to the charging port.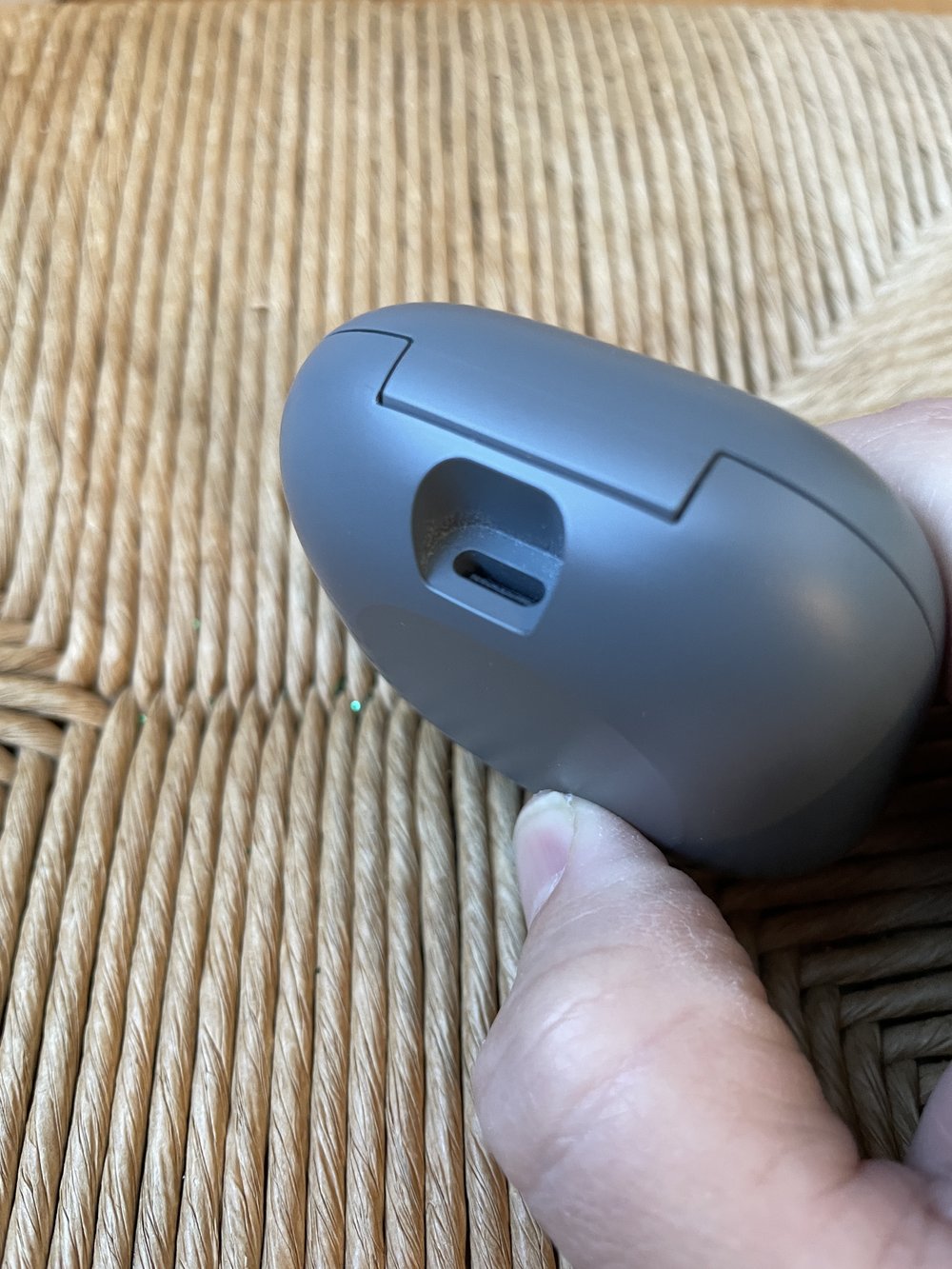 Very few USB-C cables fit. Finally, there is the battery life. I am not sure, given how quickly the actual earbuds peter out, if they will ever truly be a core item in my EDC. I get about 5.5 hours out of my earbuds, which is a bit less than advertised. I am also aware of the fact that over time these tiny little batteries will died and given their size it will happen faster than other types of batteries.
Conclusions
In the end, I am not convinced that the Beats Fit Pros pass the EDC test. It is close. Weeks where I have a lot of commuting, they probably do. Weeks where I don't, they probably don't. If I were on the road as much as I used to be, they would pass. If I were commuting on public transit, they would be essential. But even with all of these limitations, I think they are an excellent product and probably some variation of them will be part of my EDC in the future. The ability to voice command my phone is just too helpful. These guys are so handy, I even use them when I work from home.
Highly Recommended
Amazon Link
Apple Airpod Pros
Beats Fit Pros