Any discussion of the Ek Commando knives has to begin with a long line of stiletto inspired knives. Like the Fairbairn-Sykes, the Marine Raider knives, and the V42, the Ek Commando was double-edged and built for stabbing. These knives were designed for special operations units that, optimally, worked with the element of surprise and the long blades allowed for deep penetration from just about any angle, ensuring organ damage and rapid exsanguination. Ka-Bar's new Ek Commando knives, though, offer much more versatility.
Specifications:
Weight: 0.65 lb
Blade Length: 5.062 inches
Overall length: 9.25 inches
Edge Angles: 20 degrees
Shape: Clip Point
Tang Stamp: KA-BAR/Ek Commando
Knife Material: 1095 Cro-Van
Grind: Flat
Handle Material: Ultramid
Rockwell Hardness: 56-58
Blade Thickness: 0.165 inches
Blade Width: 1.312 inches
Designed In USA
Knife Manufactured In United States
Sheath Manufactured In USA
Pros:
Ease of maintenance
Excellent strength to weight ratio
Carrying the Ek tradition forward
Cons:
Ultramid scales
No tang pry bar
The Original Ek Commando Knife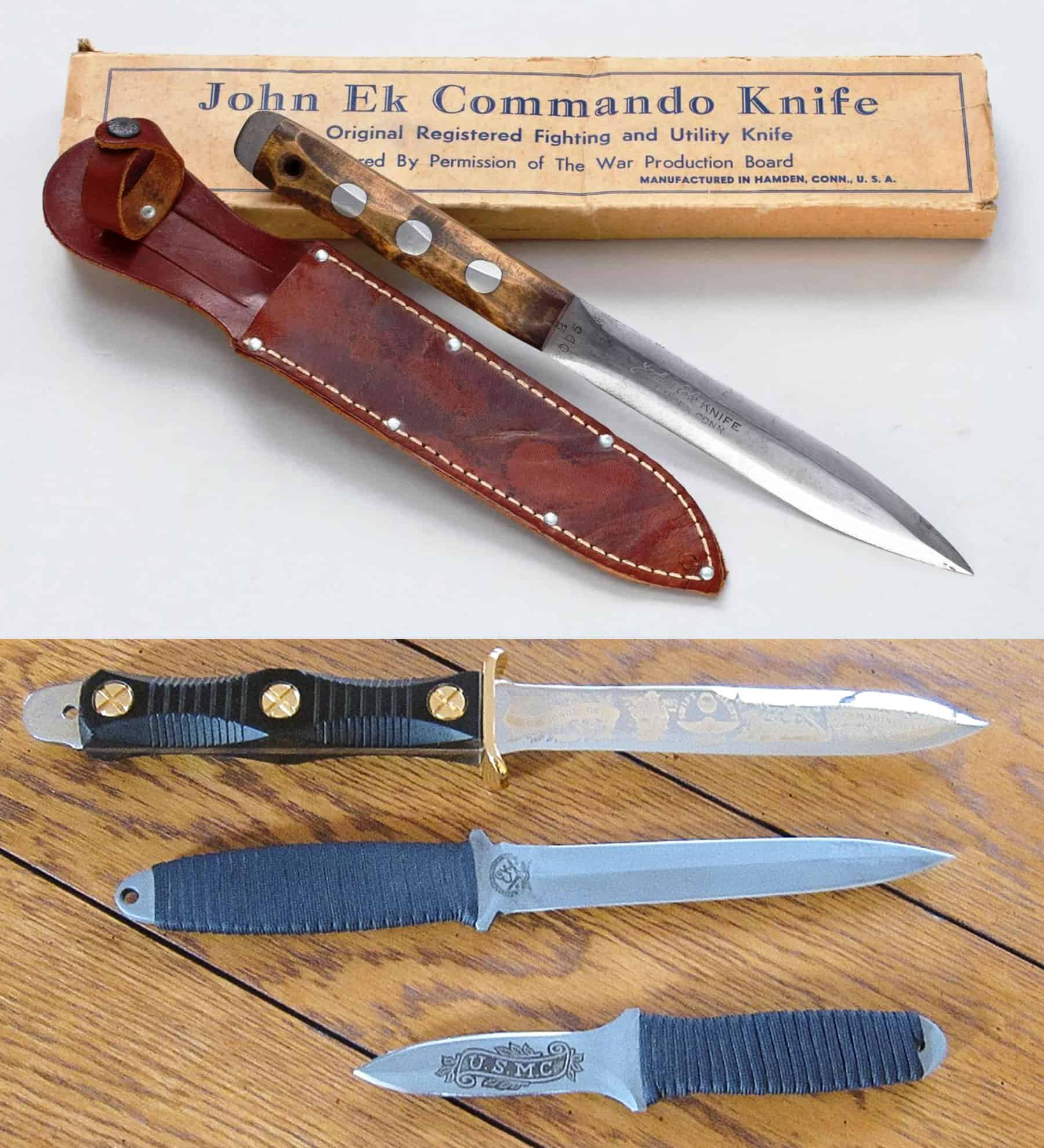 Fighting knives weren't so useful around camp. Almost all of them were flat ground to 4-sided diamond profile. This created a natural edge bevel, but meant the mid-line of the blade was the strongest point. They were strong enough for their main function, but not so good at prying open ammo crates or any of the other more cumbersome tasks of life in camp.
The Ek Commando knife actually took a different approach to the problem. The original knives were double-edged, still, but that edge bevel only extended a short way up toward the mid-line. The middle of the blade preserved all of its thickness. That made the blade design much stronger.
Ek also added a segment on the back of the blade for prying. These knives were built with a full tang. Part of that tang stuck out of the back of the handle, making a dedicated extension for striking or prying with forces that would otherwise jeopardize the blade.
But even the blades on these were reasonably strong. John Ek designed these early knives for the type of fighting conditions being reported from the early days of WWII. These were defining times for special operations as we now know them and the tactics being developed needed new tools.
The New Ek Comando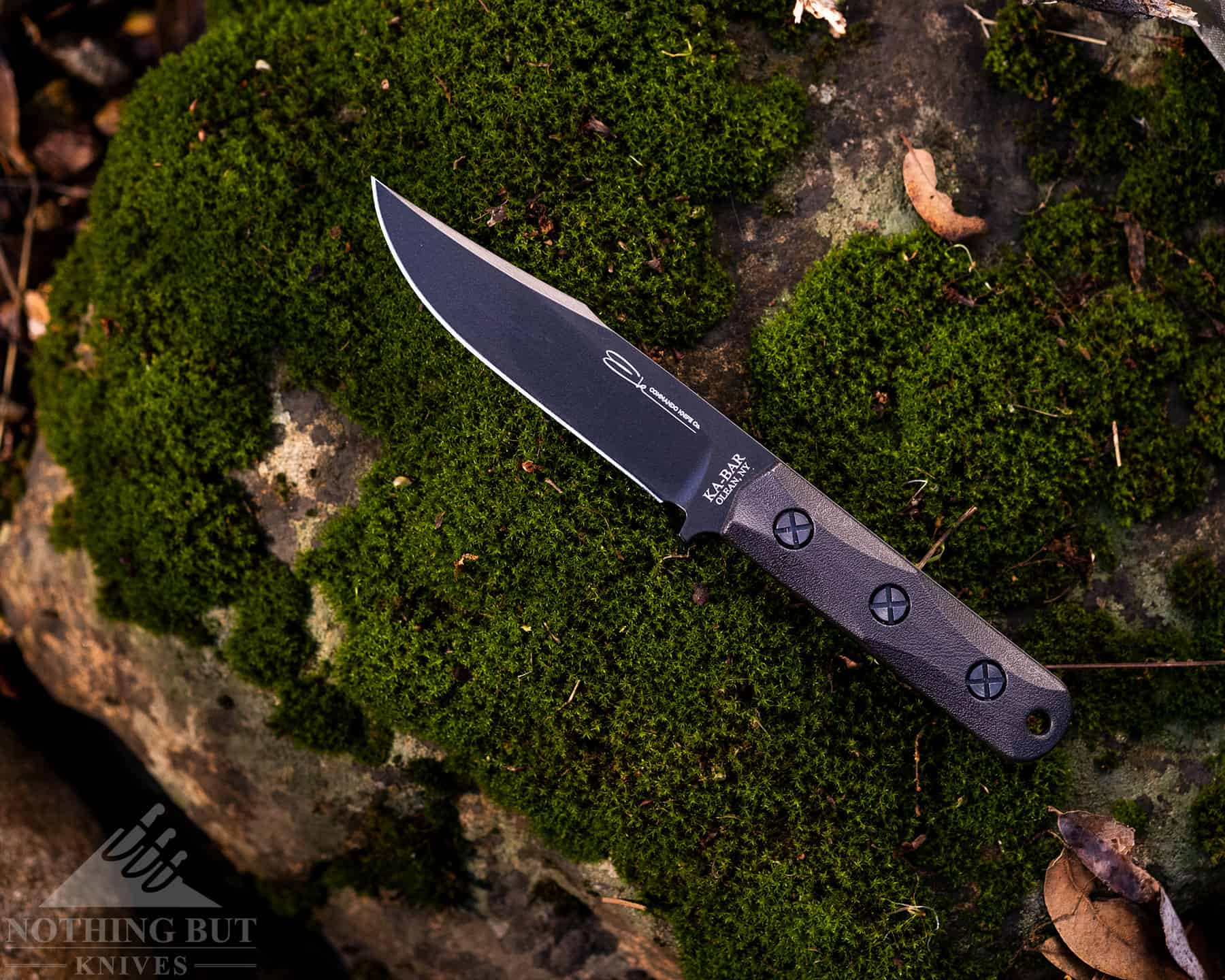 John Ek's original company stayed in the family after his death in the 1970s. The company moved several times, from Connecticut to Florida, and eventually to Virginia before the company was sold to Blackjack and moved north. The brand is currently owned by Ka-Bar, and there have been some changes made to both materials and style.
Some early Ek knives were made in stainless. The ease of maintenance made stainless a logical choice for soldiers who needed to work in harsh conditions, including salt water. And the edge retention wasn't as important as the knife's ability to inflict puncture wounds.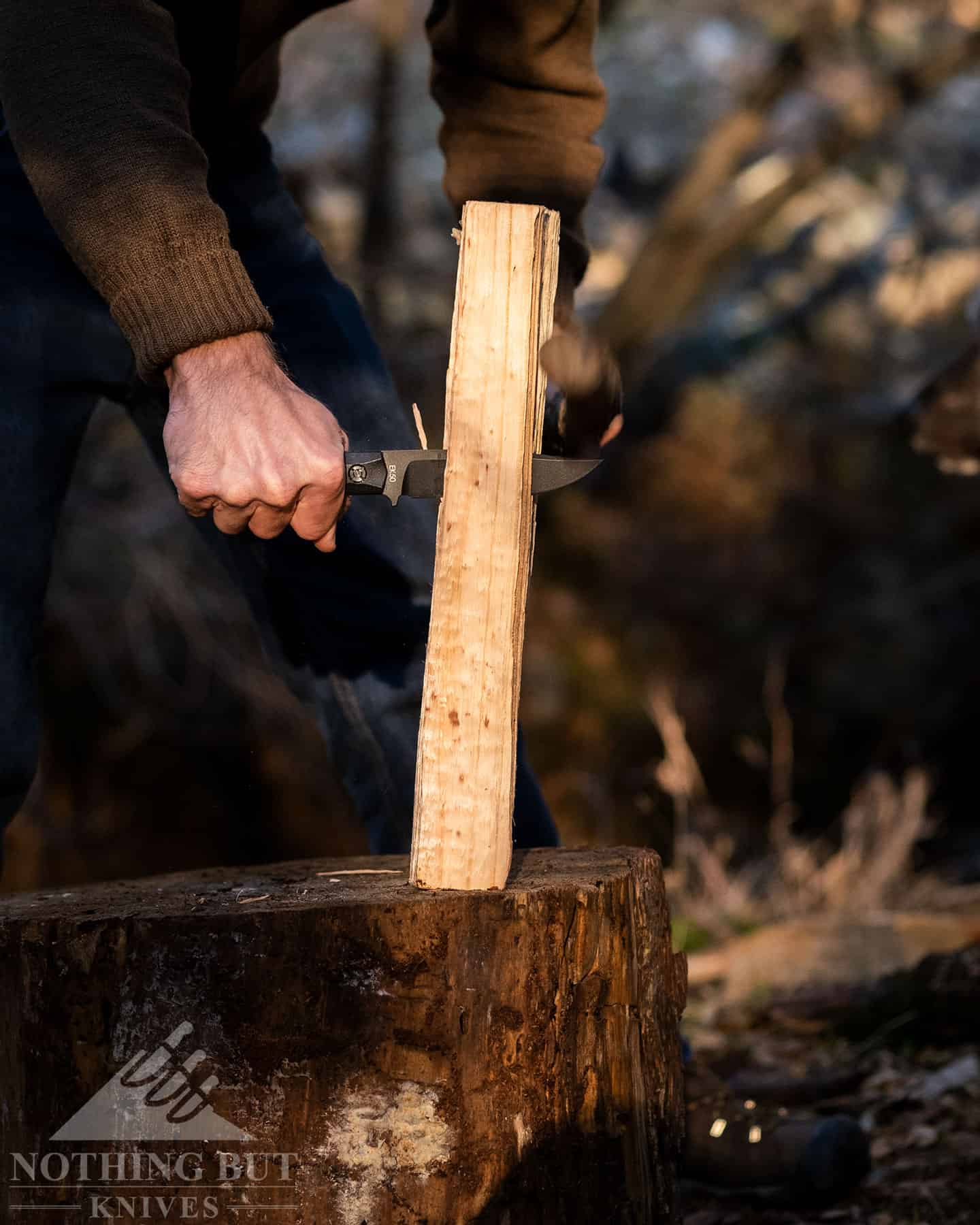 The new Ka-Bars have an entirely different focus. These are still solid fighting knives, but they're designed to function as camp knives, too. Ka-Bar has made the switch to 1095, a steel commonly used in their fighting and tactical knives.
They're making new blade-shapes, too. This is the Ek Commando Short Clip Point. The blade, at just over five inches, is much shorter than the iconic Ek Commando lines. This is a clip point, short Bowie style, but there's a drop-point version, too.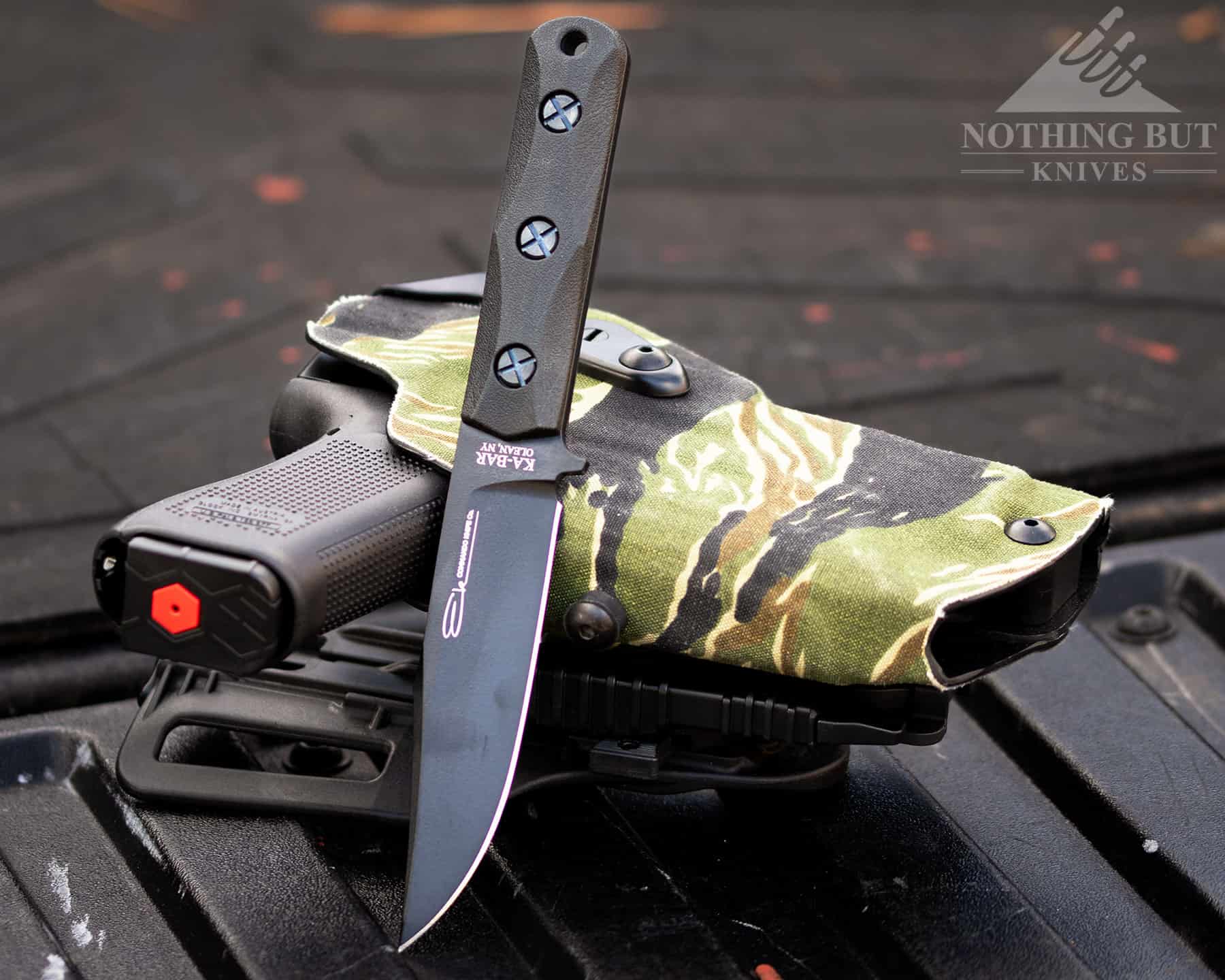 The drop-point has a wide flat-ground blade. The clip-point still has a dedicated section of full-thickness blade for some strength.
Why new blade shapes?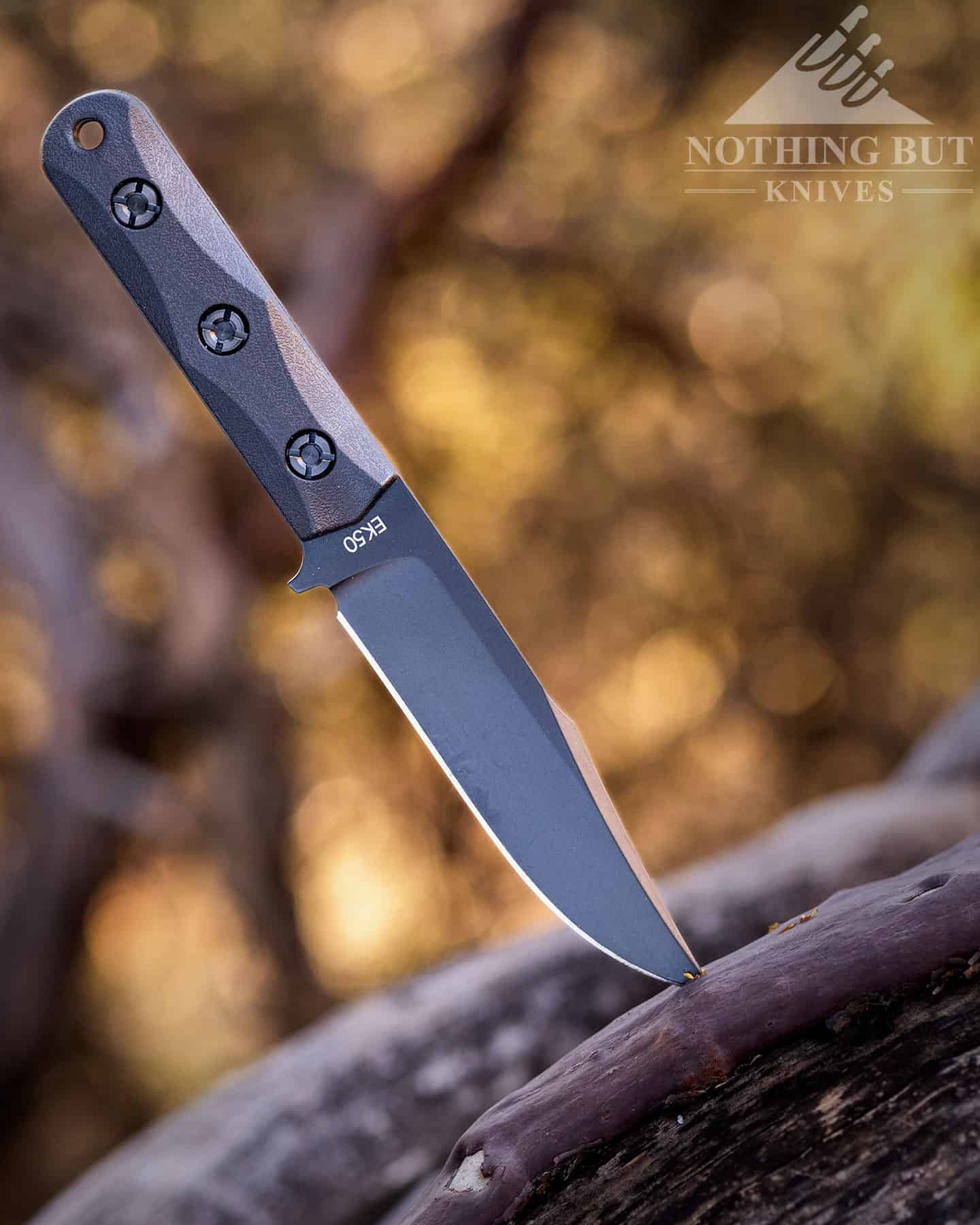 There's much less emphasis in modern covert tactics on sneaking up behind enemies and plunging blades into necks. The silencer has replaced the stiletto. While there are still bayonets and fighting knives in use within the military, there's a much bigger need for a utility knife that can also fight. This is familiar territory for Ka-Bar, honestly.
The Ek Commando line still has a full tang, though, so a 7 inch Bowie would be heavy. This knife is surprisingly light. That's the first thing that really struck me. The short blade and short (at least for an Ek Commando) handle makes this a well balanced knife. It sits well in the hand.
The new Ek Commando handle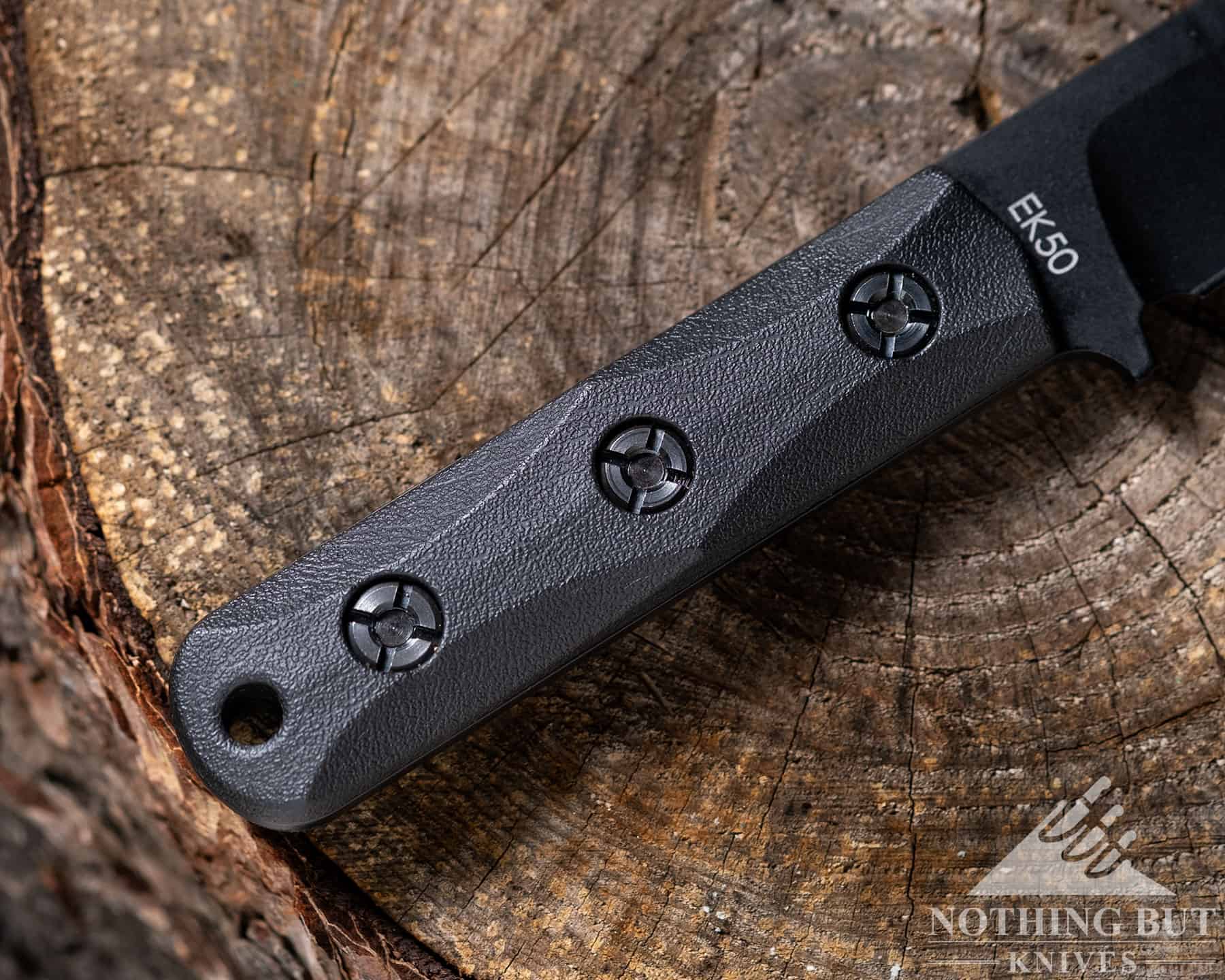 Materials have advanced since the 1940s. The early knives had wooden handles—usually maple. Later ones had micarta. Ka-Bar has opted for a glass-filled nylon. Even with the texture on the plastic, the grip is the one element of the current design that I'd like to change.
The handle is narrow. There's no crossguard, though there is a small hilt that extends down in front of the handle. This is a nub, really—enough to allow a tactile point of reference for your hand. It isn't long enough to really prevent your hand from slipping forward.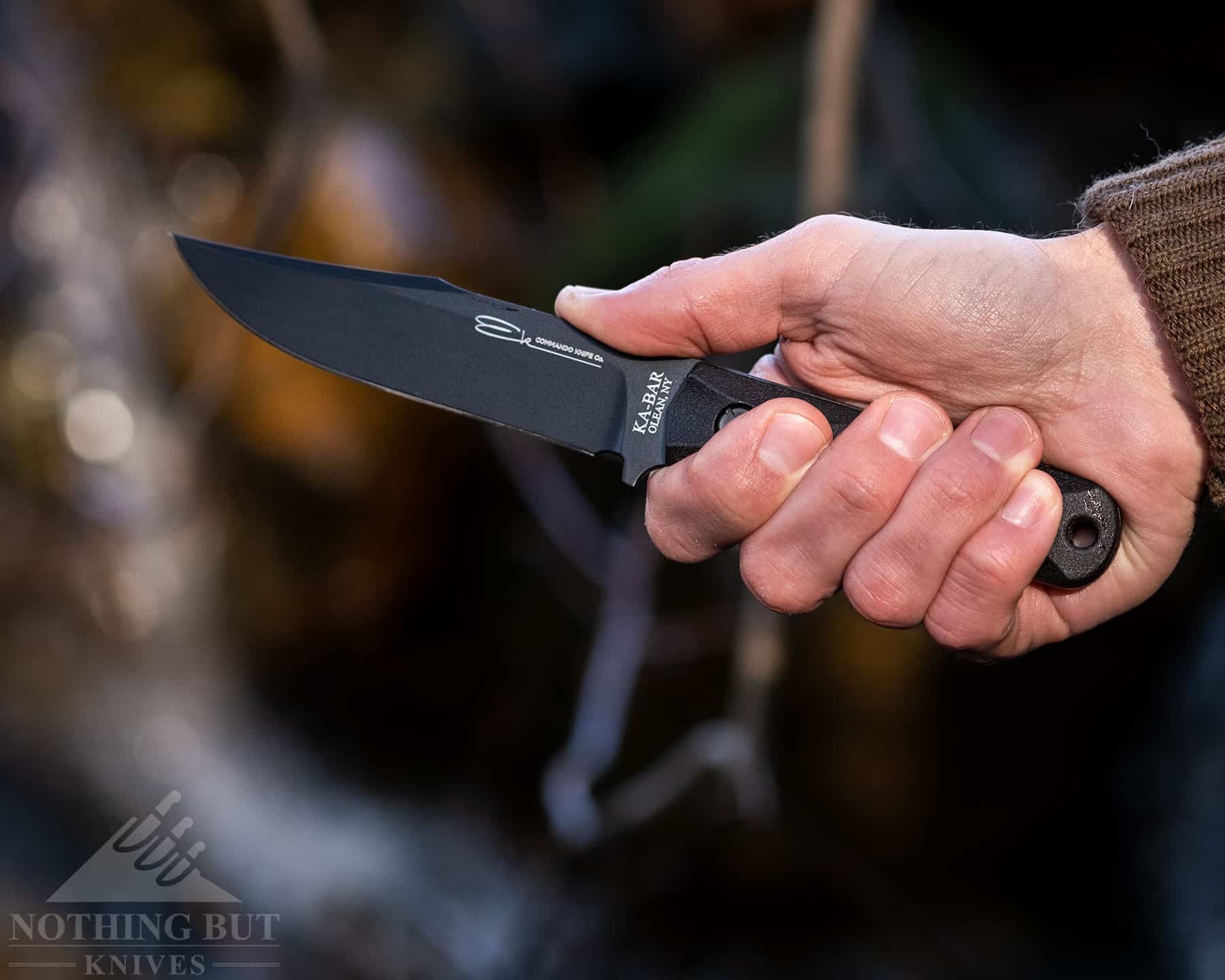 The job of keeping your hand in place falls to the cuts on the handle scales. Ek's have scalloped cuts that fit the hand and thumb exceptionally well. Despite being thin, the handles stick well and feel somewhat nimble–a balance that is as hard to achieve as it is to describe.
Another evolution of this design came when the company ditched the poured-lead rivets (you read that right—molten lead was poured in place to secure the handle to the blades). Now there are big milled bolts that allow the scales to be taken off, cleaned, or tightened.
The Sheath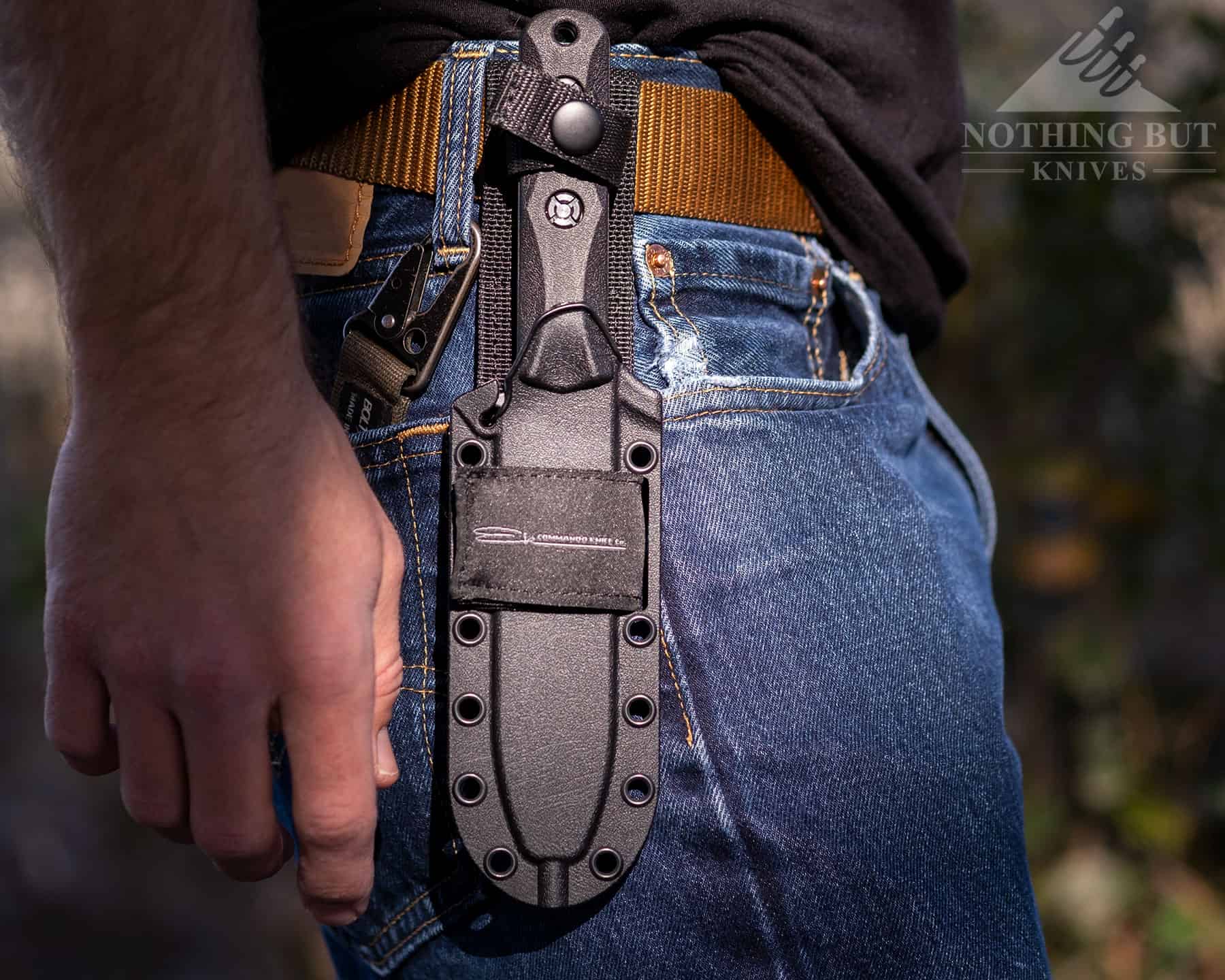 Leather. Nylon. Again—these knives have evolved in countless ways over the years. Some models, the ones with wrapped paracord handles, had nylon webbing sheaths that were super simple.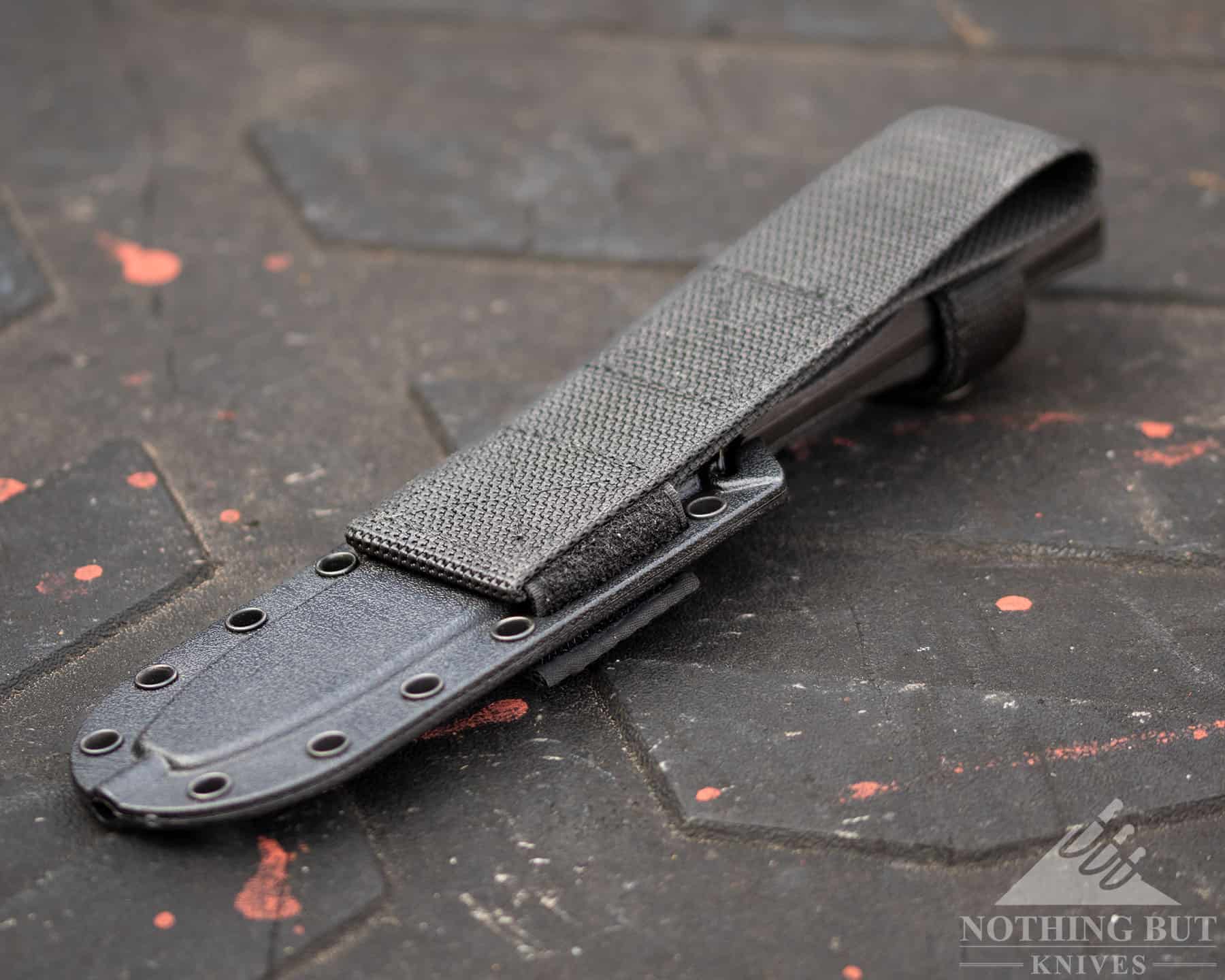 The Ka-Bar version of the Ek Commandos come with highly functional plastic sheaths that offer a lot of versatility. The plastic section secures to the belt loop with a Velcro collar. You could replace this with any of the modular systems that would allow for steel clips or MOLLE attachments.
The knife seats into the sheath with an audible snap. The throat of the sheath holds tight on the first scallop of the handle itself.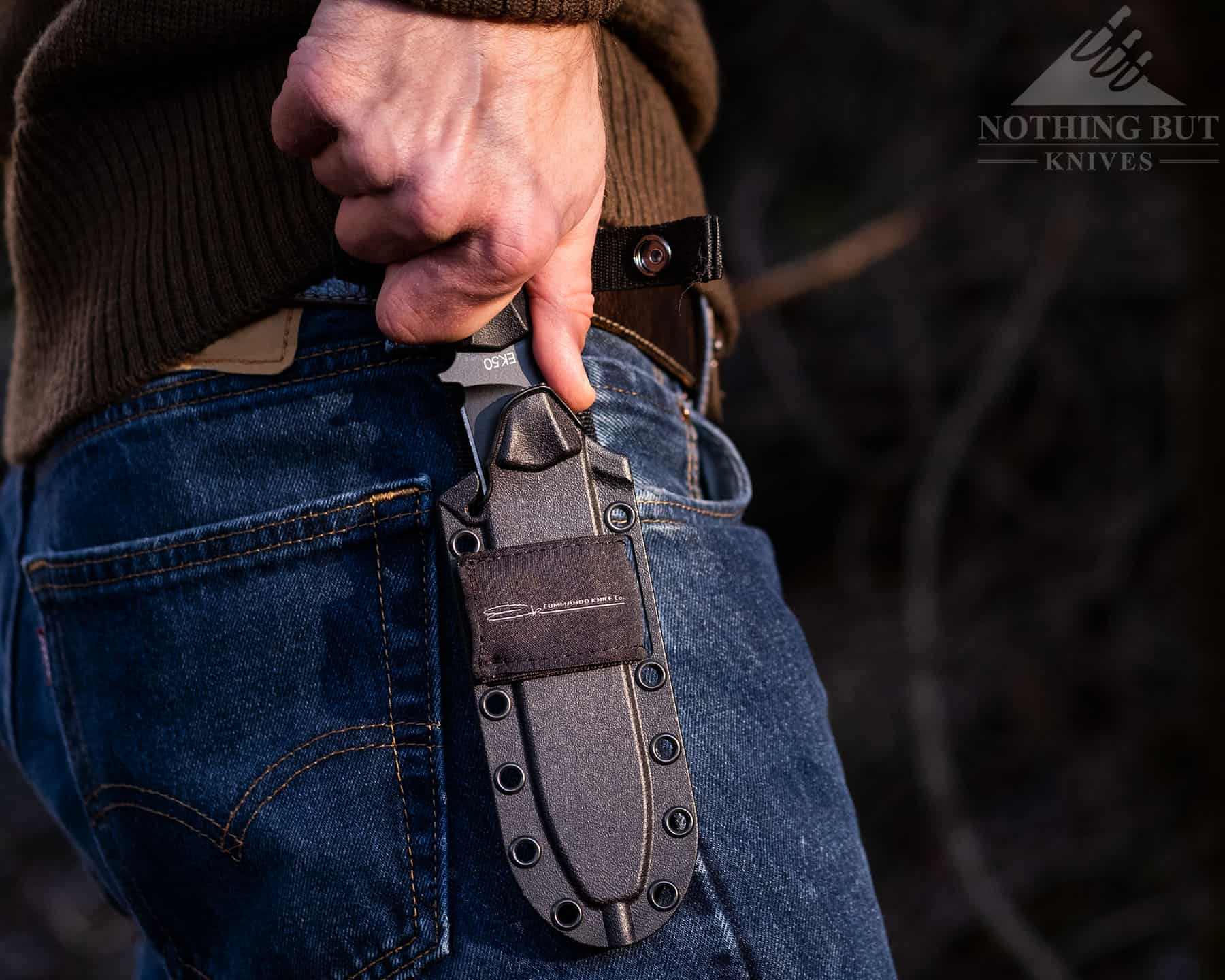 The sheath is slim—just enough to hold the knife. There's nothing overly tactical about the design, which is a big clue to anyone paying attention that it has serious potential as a tactical knife. If you are built for war, there's no reason to be gaudy in that mall-ninja kind of way.
There's also a drain hole in the bottom of the sheath. This is a true straight-out hole, and not just a hole drilled in the side of the sheath at the blade's tip. Again—a solid and useful addition to sheath designed to be worn in wet conditions.
A serious knife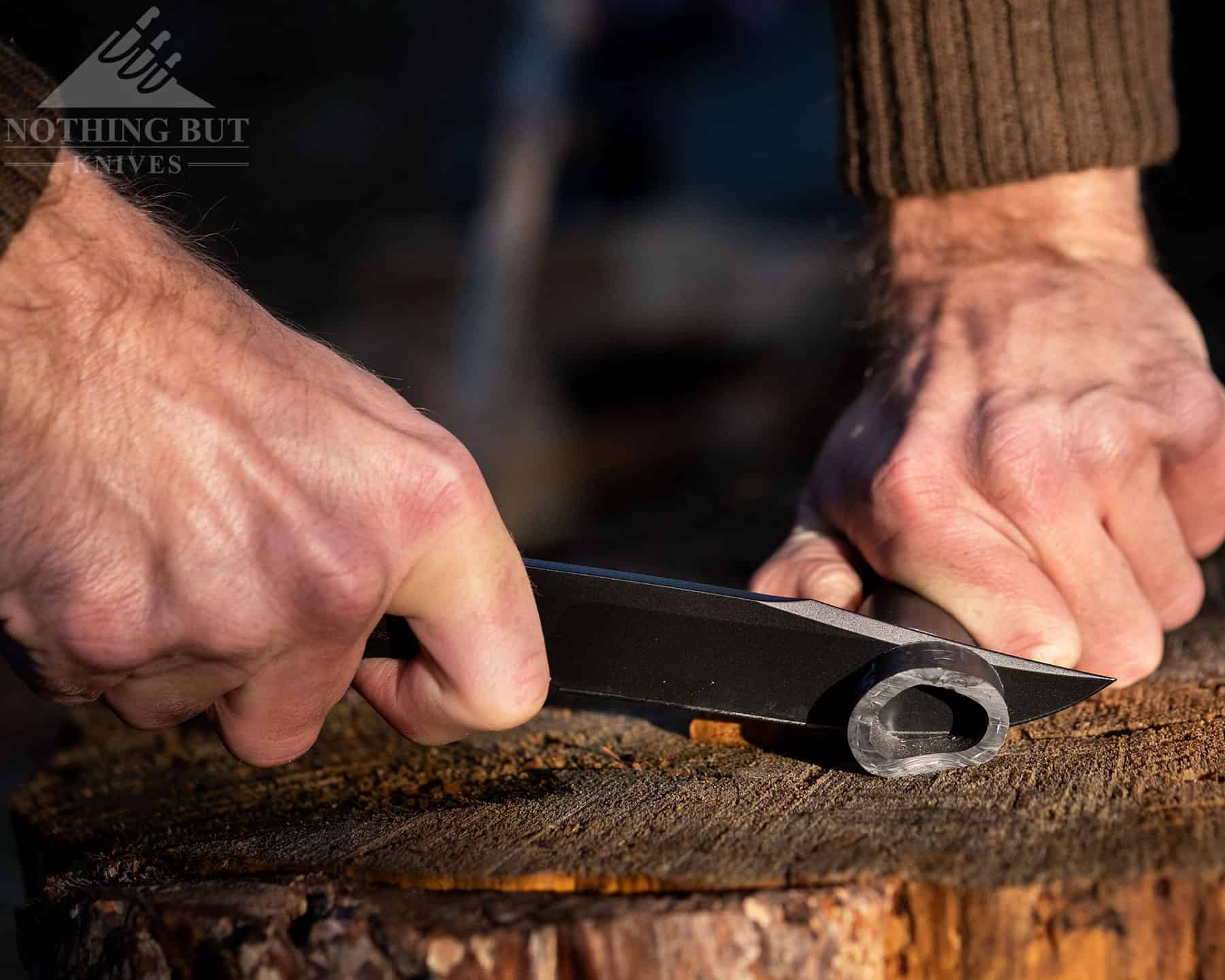 John Ek's philosophy seems pretty straight forward. So many fighting knives had adornments, or they were built with heavy brass knuckle handguards that made them cumbersome to carry (as they constantly wanted to turn over) and limited the ways you could hold them.
His knives were simple, flat, easy to make, and capable of delivering fatal performance. There was no need for anything fancy. No need for complicated curves that had to be cut from steel. Just a spike, almost, cut from a bar of steel.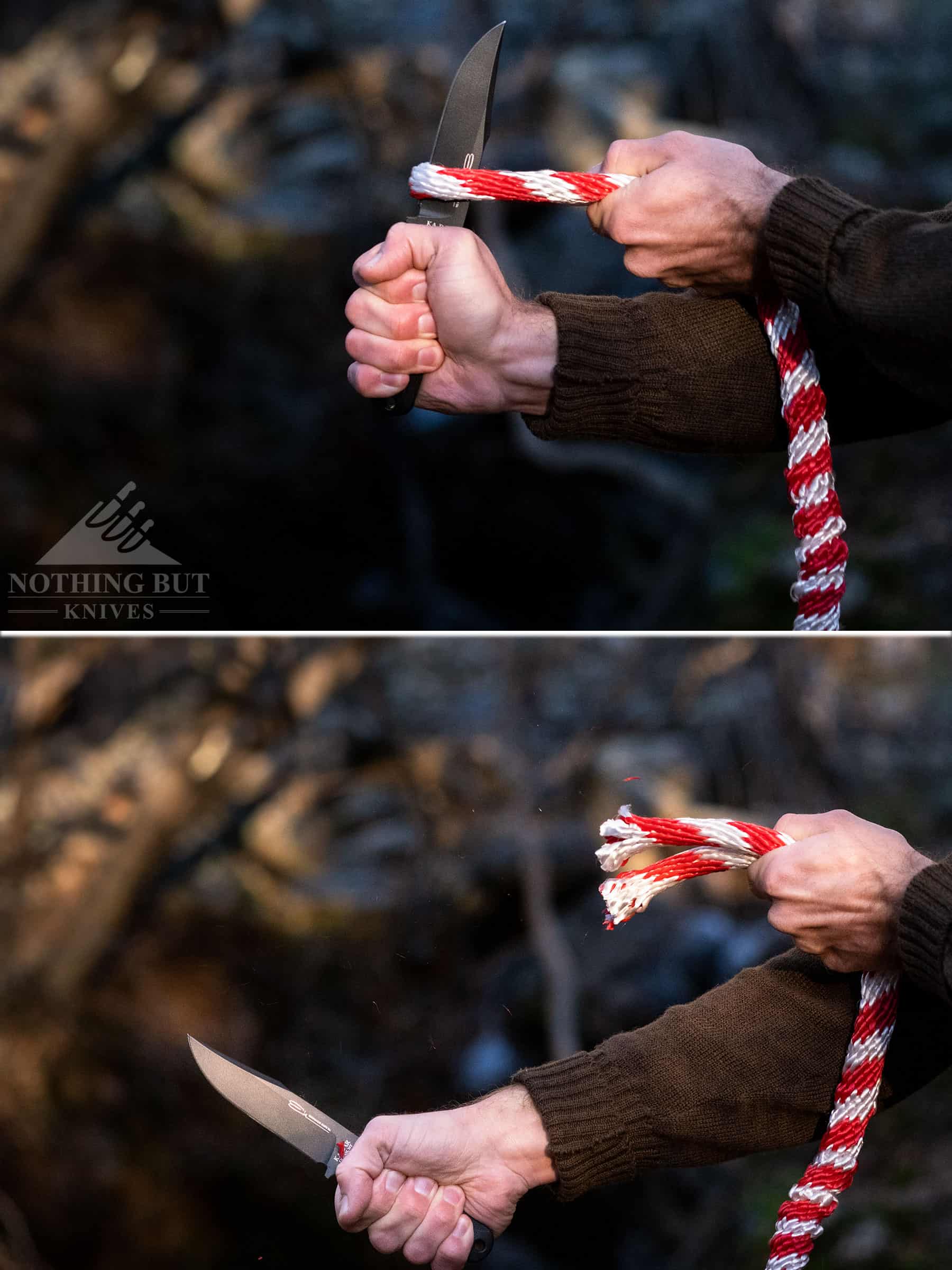 Many of the early ones, in fact, didn't even have crossguards. While this allowed them to be secured more effectively in a sheath, it also made the production that much easier.
Where Ka-Bar is taking this design is not without controversy. They've moved away from the simple slab. These wide flat grinds on the Short Clip Point are not meant for prying. This is a knife designed for utility that can also fight.
The blade steel (1095) is better for a cutting tool. The way it is hardened and tempered makes it more of a cutting tool than a prybar or knife meant for piercing.
And the drop in length is another sign of the times. In the end, this knife would be an exceptional tool for a soldier's kit, or for someone in LE, or a first responder.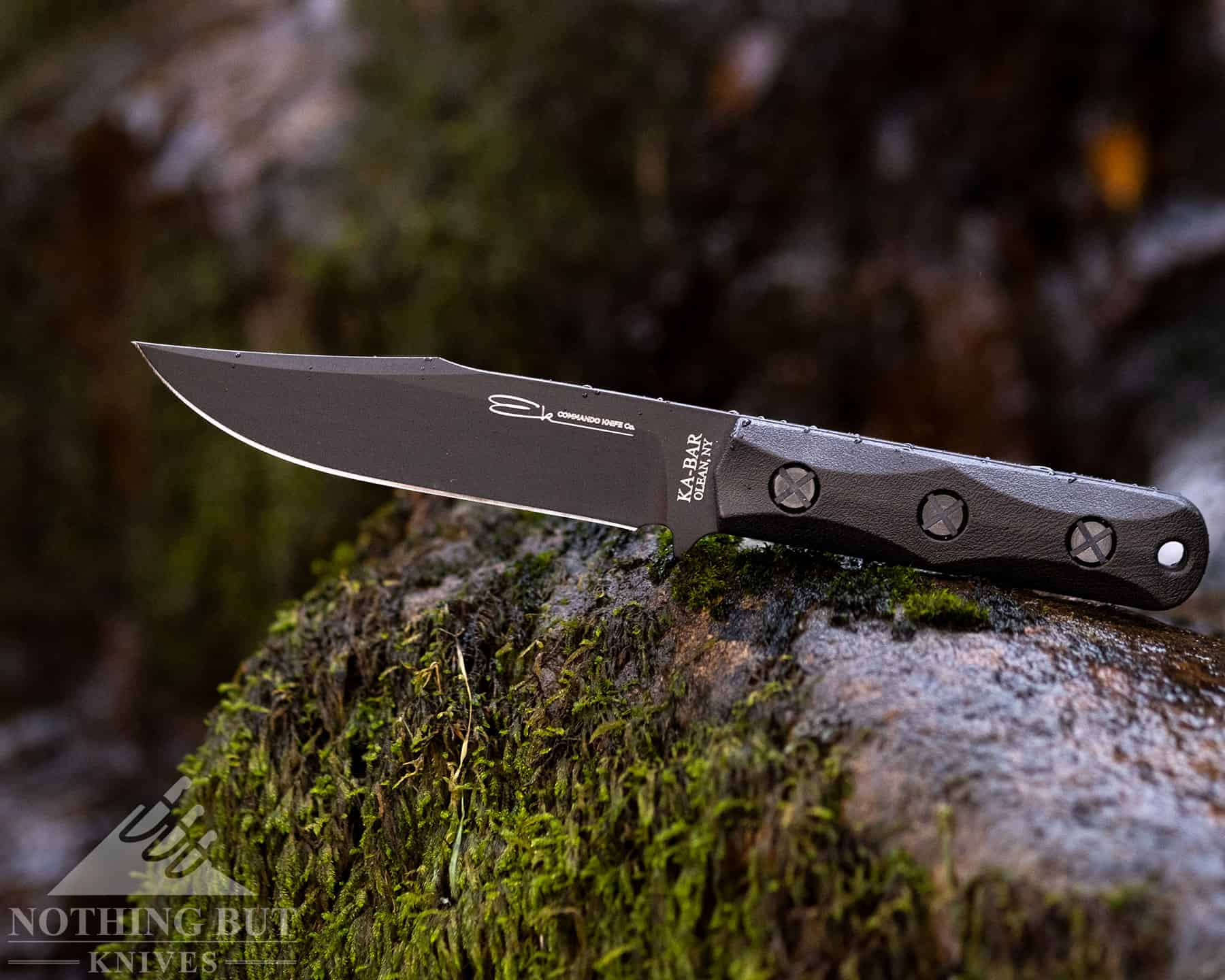 Likewise, it is a solid camp knife. The size makes it ideal for hiking or paddling trips. The old Ek's have seen their share of the world–and most of what they saw was bad. This new design builds on that tradition and is a fitting evolution of the Ek's vision.
The Ka-Bar Ek Commando Clip Point is a 2022 Drunken Hillbilly Award winner.