The last quarter of the year is always a whirlwind and this year was no exception. Work was busy, as was home life. I also started a jewelry box project for Christmas. So there was plenty to do and good reasons to carry. One bummer—I lost my Prometheus Lights Beta 1xAAA Ti. It was one of my very favorite lights and was an excellent carry. As I was writing this artile I found it. Similarly, the Dragonfly went missing for almost a year and it too just reappeared.
Prometheus Lights Ti Beta and Vero Mini Synpase
The Ti Beta is a perfect EDC torch—so slim and compact that it is always like carrying nothing at all. It tailstands, has a great clip, and works with just about any knife. It is pretty expensive and not that bright, but if you value consistency and ease of carry, this is a light worth hunting down. They don't come out all that often and when they do, they stay in stock for about 30 minutes. The Mini Synpase is a complex knife that looks like a simple one. It is truly great and a full review is in the works.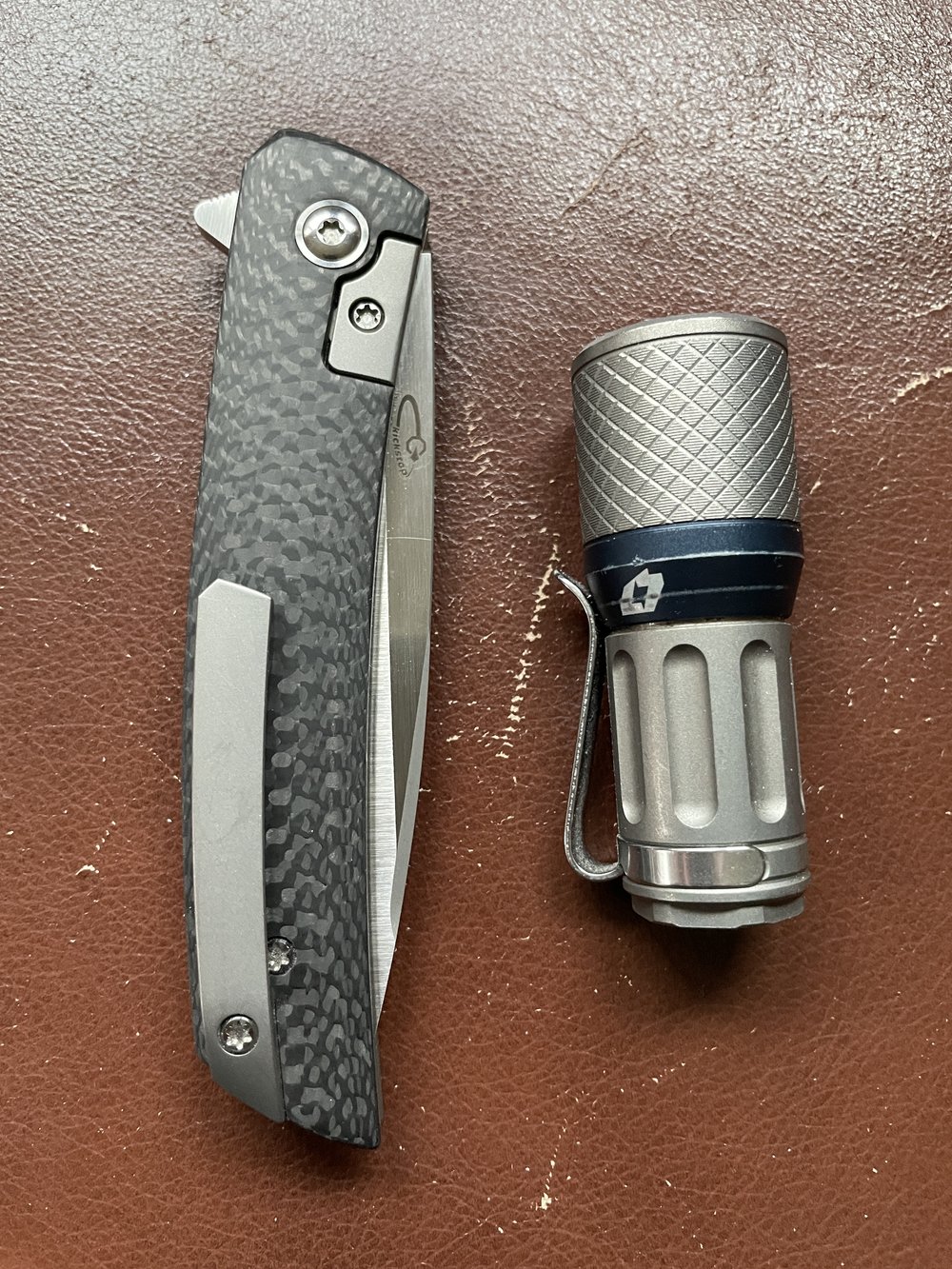 Jared Oeser F22 and FourSevens Ti Mini Turbo Mk. III
While not as discrete as the Ti Beta, the Ti Mini Turbo is as small as you can find for a truly full-featured light. Surprisingly great throw rounds out a package without compromise. And it fits neatly into a coin pocket. The F22, also in for review, is a breathtaking production knife that, had it been released even five years ago, would have been virtually unprecedented in terms of features and execution. Even now, it is clearly among the best production knives available even if it is a bit bigger than it needs to be.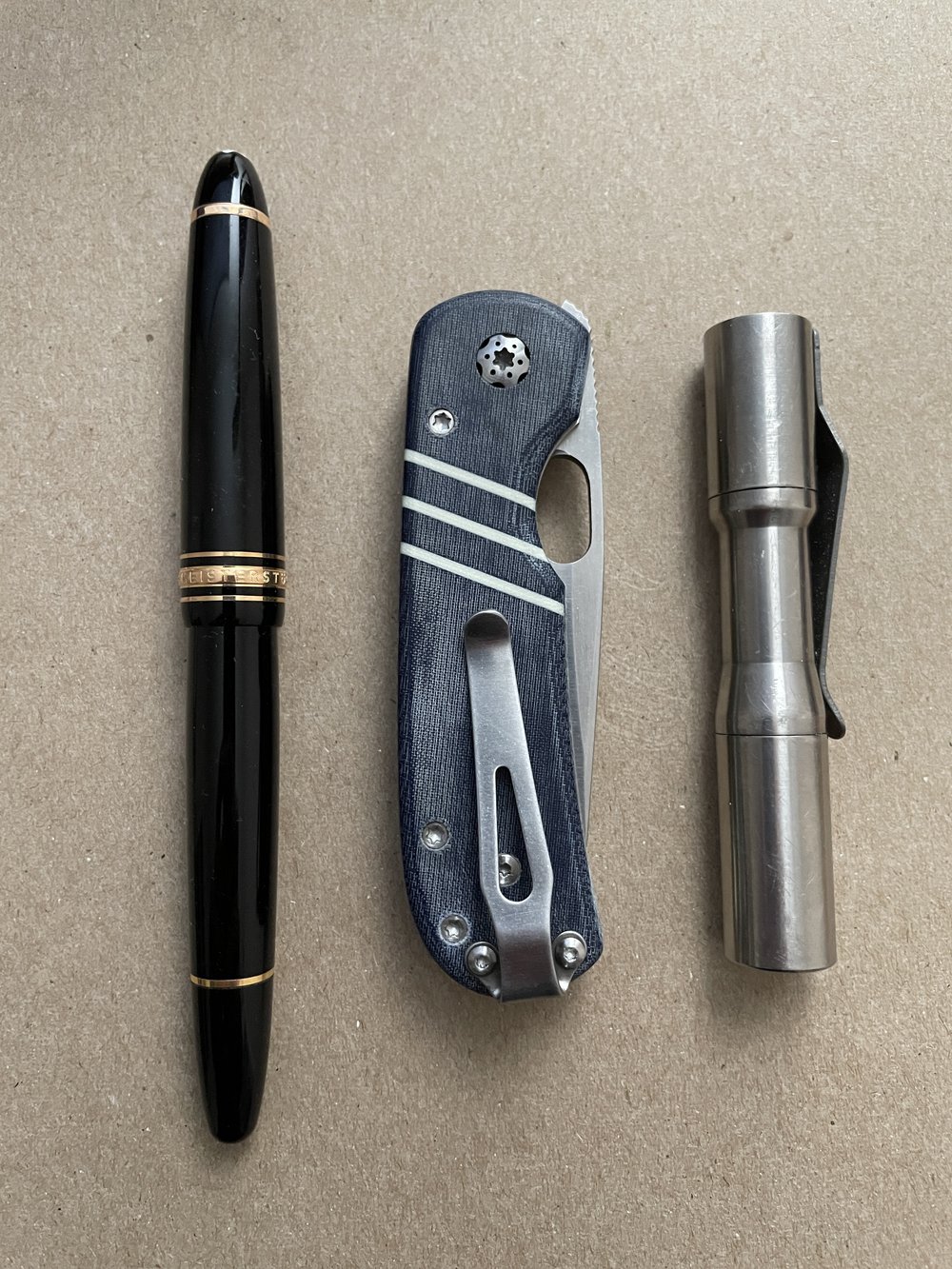 Mont Blanc Meisterstuck 146, Walter Wells 3" Custom, CWF Micro Arcadian
The 146 is excellent and a classic. The Micro Arcadian could be headed in that direction in another few years. You won't find a light better than this for any price. Simple, slim, and just short of skin burning bright, if you had only one light for the rest of your life and it was the Arcadian you wouldn't be sad. The Wells Custom, a true custom mind you—I picked out everything—is about as good a value as you will find. Mine is 20CV, weighs around 2.8 ounces, and sports demin micarta and ivory micarta handles. It cost me $360. It is TOTALLY worth it.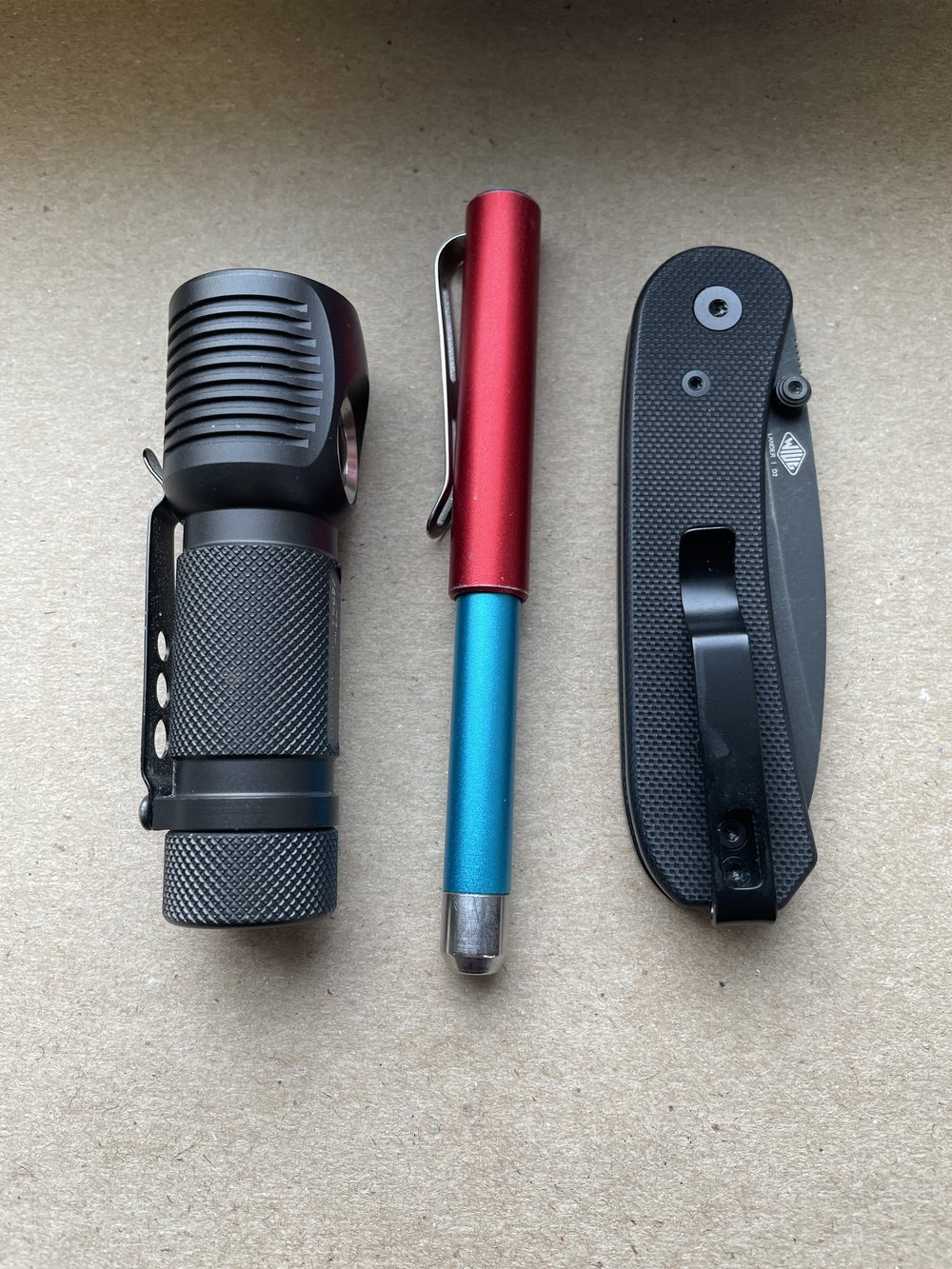 Zebralight SC5 II LE, Spoke Designs Roady, Knafs Co. Lander
Nothing here is over $65. All of it is exceedingly compact AND well designed. Iteration is the name of the game with the Zebralight as it is the most recent (and possibly final) update to a light that has been in existence in some form for more than 15 years. At this point all but one of the kinks have been worked out—the silly UI, which, by virtual of the rest of the market going to pot, is now not the worst UI available. Addition by subtraction. The Lander is an excellent budget knife and, like the Zebralight, subtly well designed. From the simple handle to the blade shape, there is a lot to love here. Finally, there is the Roady, still my go to "running errands" pen. Its vibrant colorway and clever magnetic cap still grab my attention every time. The size and balance in hand are also wonderful.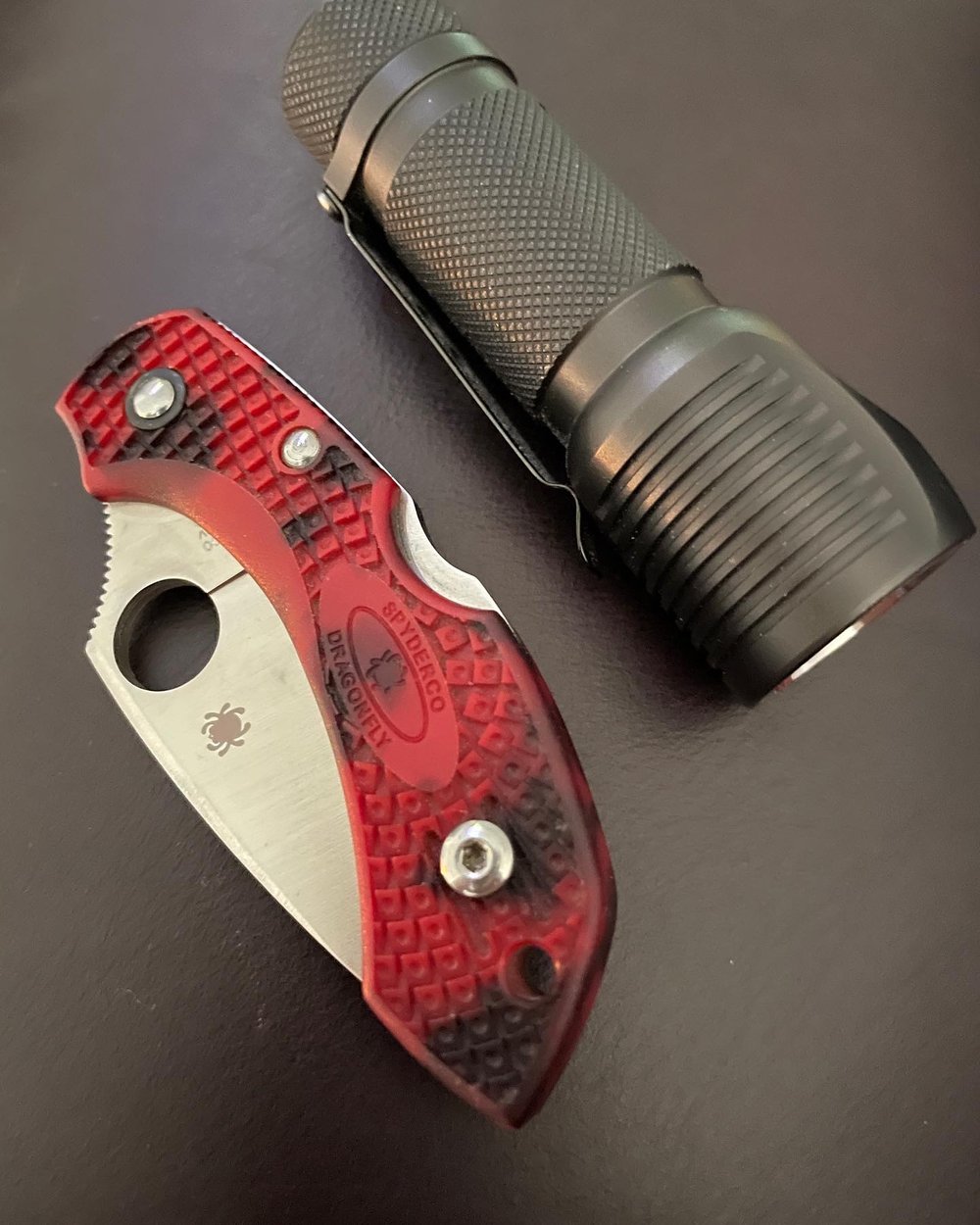 Spyderco Dragonfly II in 20CV, Zebralight SC5 II LE
When we moved in to the new house my wife asked for a knife that she could use to break down boxes. I tossed her the Sprint Run Dragonfly II. Then, sometime in the first quarter of 2022, it disappeared. I looked for it for a few days and then decided to wait and see if it popped up. About a month ago, it appeared in a bin near the door to the garage. It had been used extensively and needed a sharpen, but other than that, it was perfectly fine. My ZDP-189 DFII has left the realm of stock a while ago and so it took this knife to convince me of just how great a stock (ish) DFII is. Right now there are a slew of DFII variants out there but the ones that are in production don't grab my attention. I suppose you could get through life with a VG10 one, but that's like saying a regular Civic is a suitable substitute for a Civic Type R. They are barely the same thing. K390 is not my steel. This version with its 20CV steel is really excellent. I am not a fan of the handle color—Zome red and black also known as the scab colorway. But the DFII formula still work well—light, thin, and slicey. Whodaguessedit?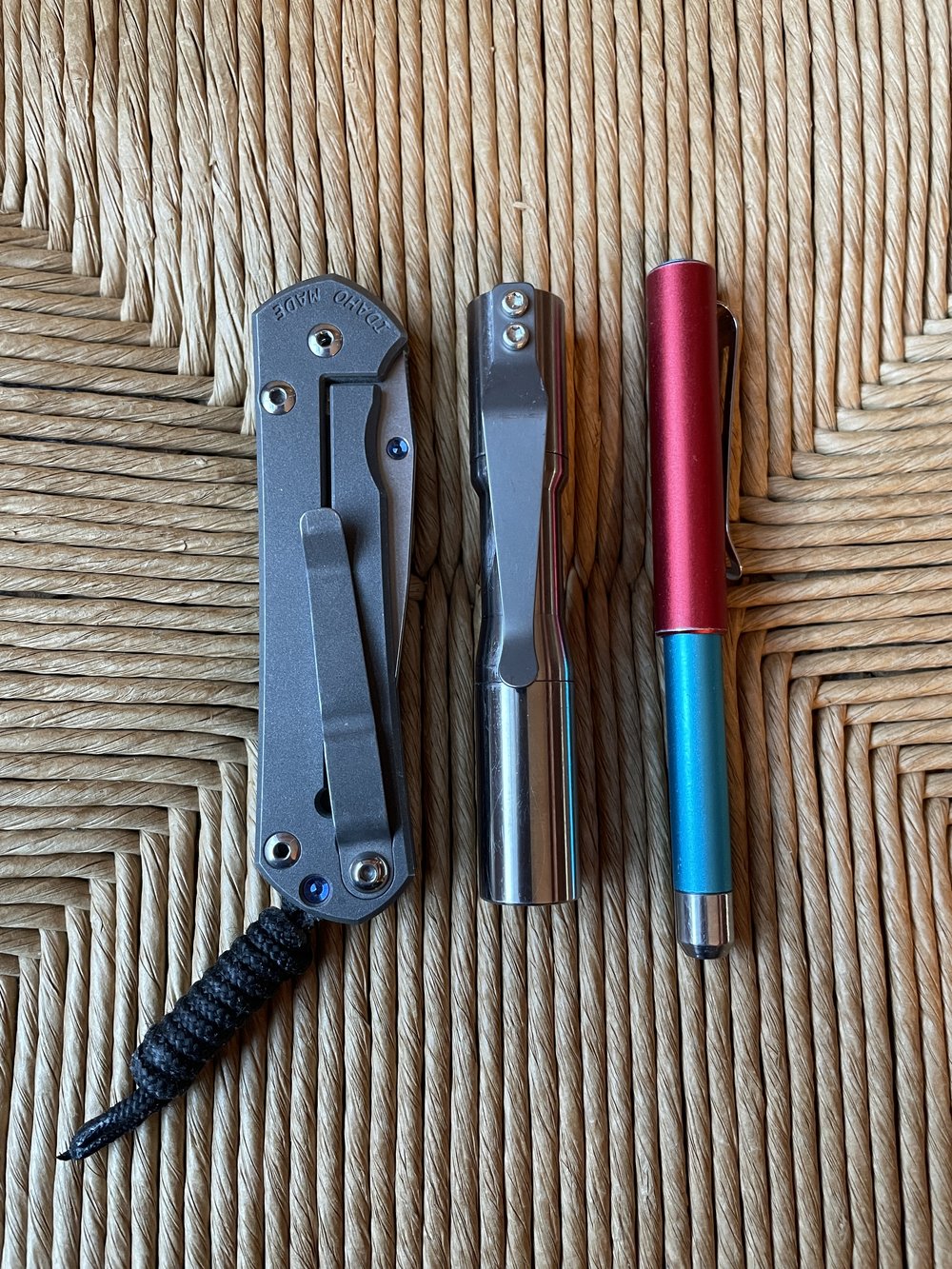 Chris Reeve Small Sebenza 31 in S45VN, CWF Micro Arcadian, Spoke Designs Roady
This is pretty close to an ideal EDC—compact, durable, simple, and capable of standing the test of time. My Sebenza 31 is a helluva blade with tolerances as fine as any production (and many customs). And S45VN has my vote—its a truly superior steel. I love its ability to soak up damage and move on no worse for wear. The Sebenza is a classic for a reason. The Micro Arcadian is really great. It can't tailstand for some reason, but aside from that, its in the running for best EDC light ever (with the BOSS35 and Laulima Hoku). Mine conked out and had to be sent back for a reset of some sort, but it has been fine for months since. I have no idea what happened, it just wouldn't turn on. Swapped batteries, did a reset, let it sit. Nothing. I have no idea why either.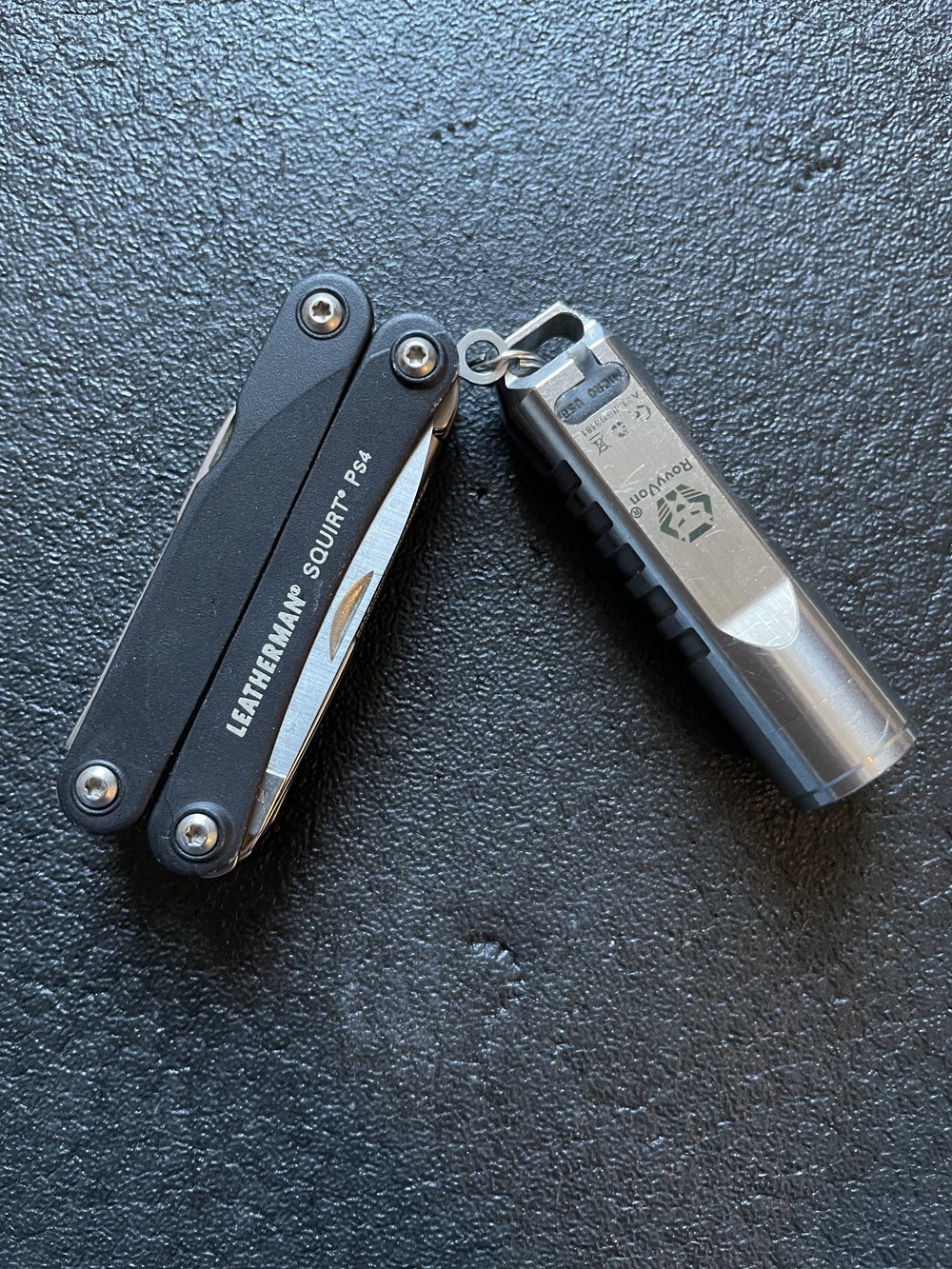 Leatherman PS4, Rovy Von Aurora A2
Sometimes you don't want to walk around like your in one half of a suit of armor. In those instances, I am fan of micro stuff. I am also a fan of Spydercollector's linked pairs. He does this with a few different pieces of kit, but I really like the LRI Photon linked to the Spyderco Ladybug. Here I have a Rovy Von Aurora A2 and my beloved Leatherman PS4. With a weight under 2 ounces, you'd be surprised to learn that this kit and do just about everything you need. I wouldn't want to swap out a transmission with only the PS4, but, as a stunt I have installed a ceiling fan with it and it was only mildly frustrating.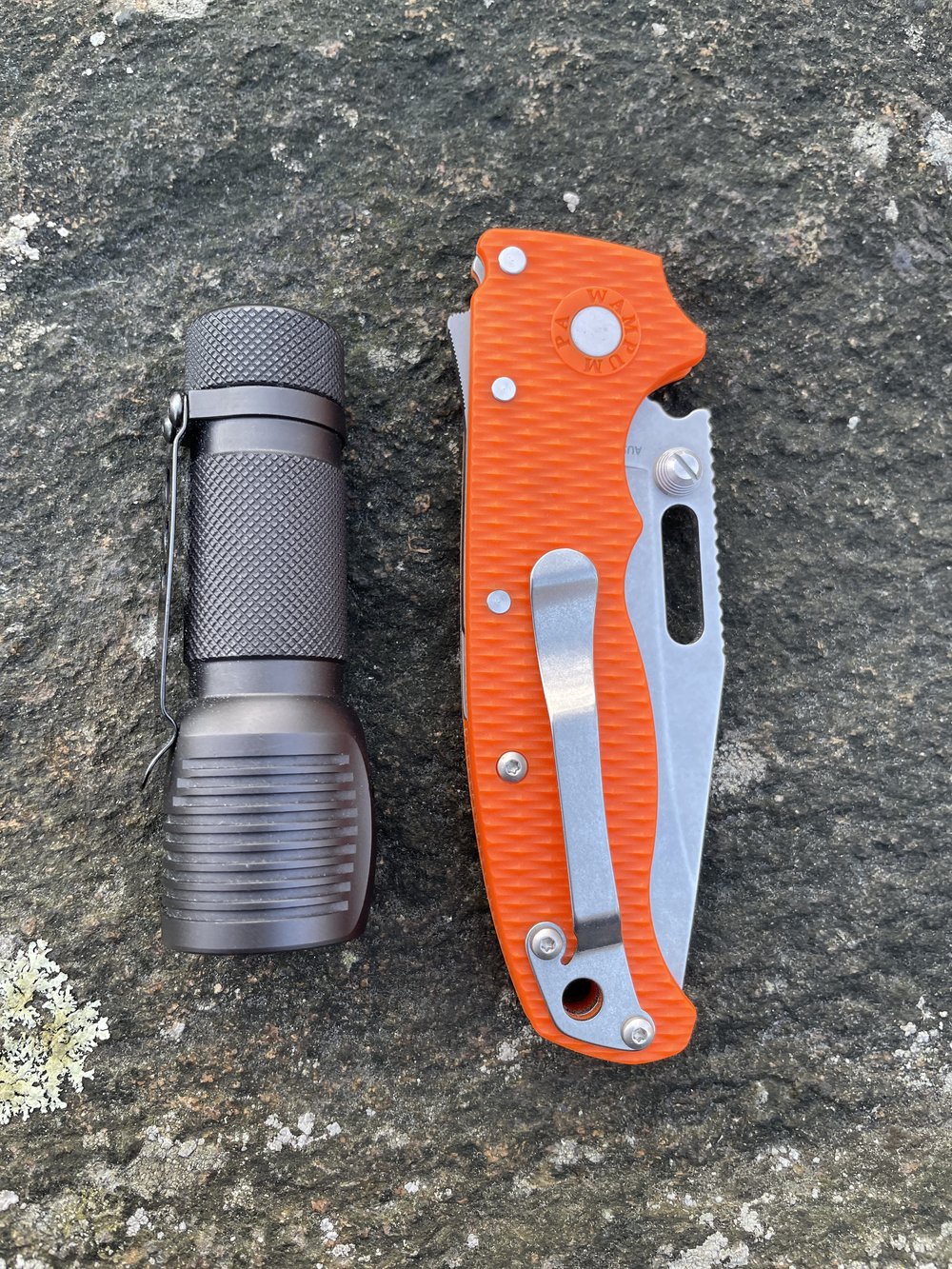 Zebralight SC5 II LE, Demko AD 20.5
Hmmmph…the AD20.5. Is it a good knife? I don't know. Is it a bad knife? I don't think so. I have had this in for review for a while and it has stymied me quite a bit. I took it in and out of circulation a few times and I still don't have a good handle on whether this is a quality knife or not. I like the blade, but not the handle. I like the lock, but not the gappy tang. Over and over again every positive is offset by a negative. Its just not an easy knife to evaluate. The price and the steel don't help either. We'll see. As with a few things here, a review is coming.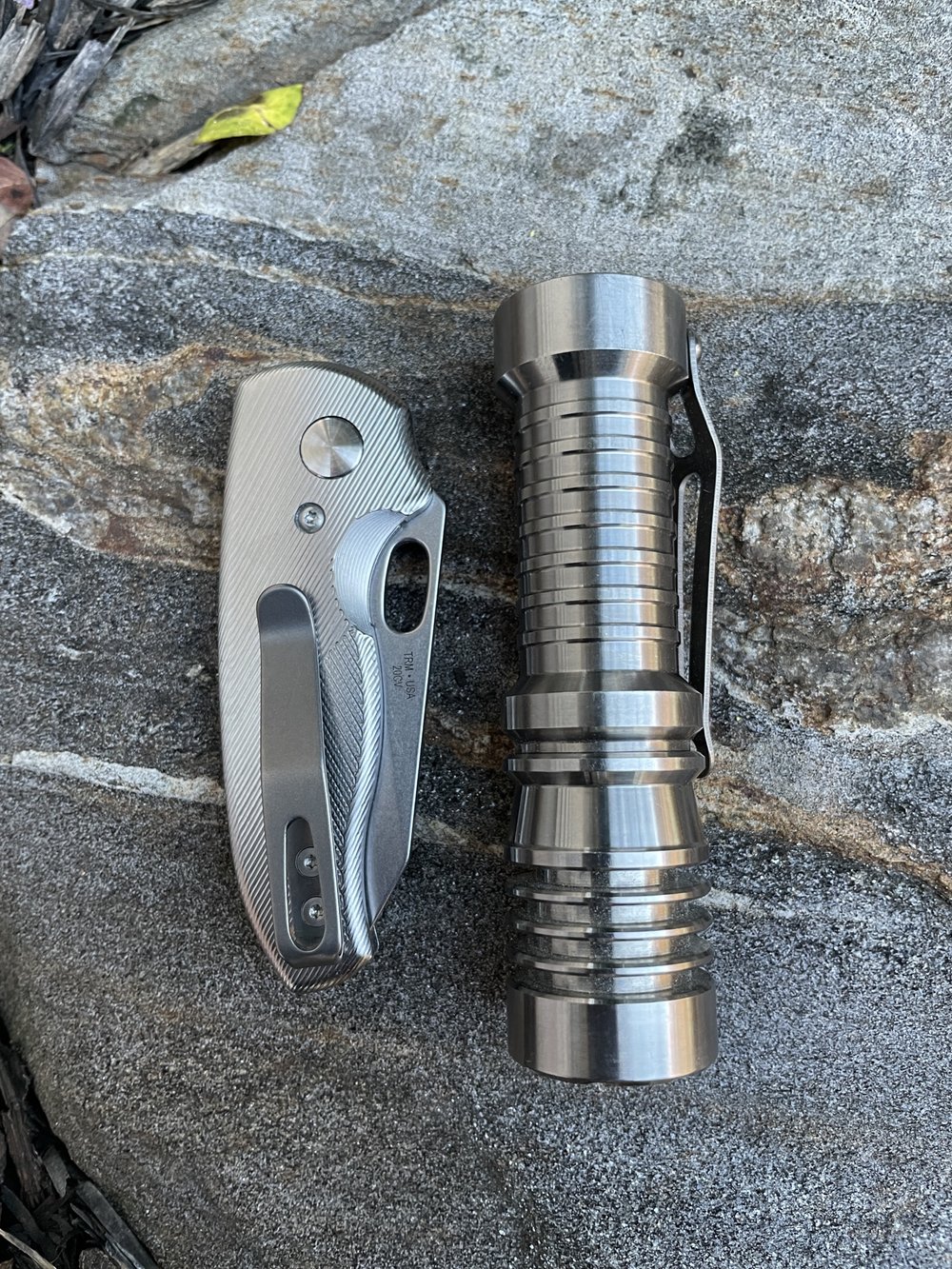 TRM Ti Holy Nerd, McGimzo Haiku
I can't think of a better looking pair. The Ti Nerd is one of those knives that makes you pause every time you pick it up. It is a superb design with a beautiful look and a nie bit of heft. It is still around 2 ounes, but it is dense for its size. The Haiku, here with a custom drop in that makes it a modern light, is really impressive. The body tube and the reflector are still state of the art. The fact that the emitter is again is really nice.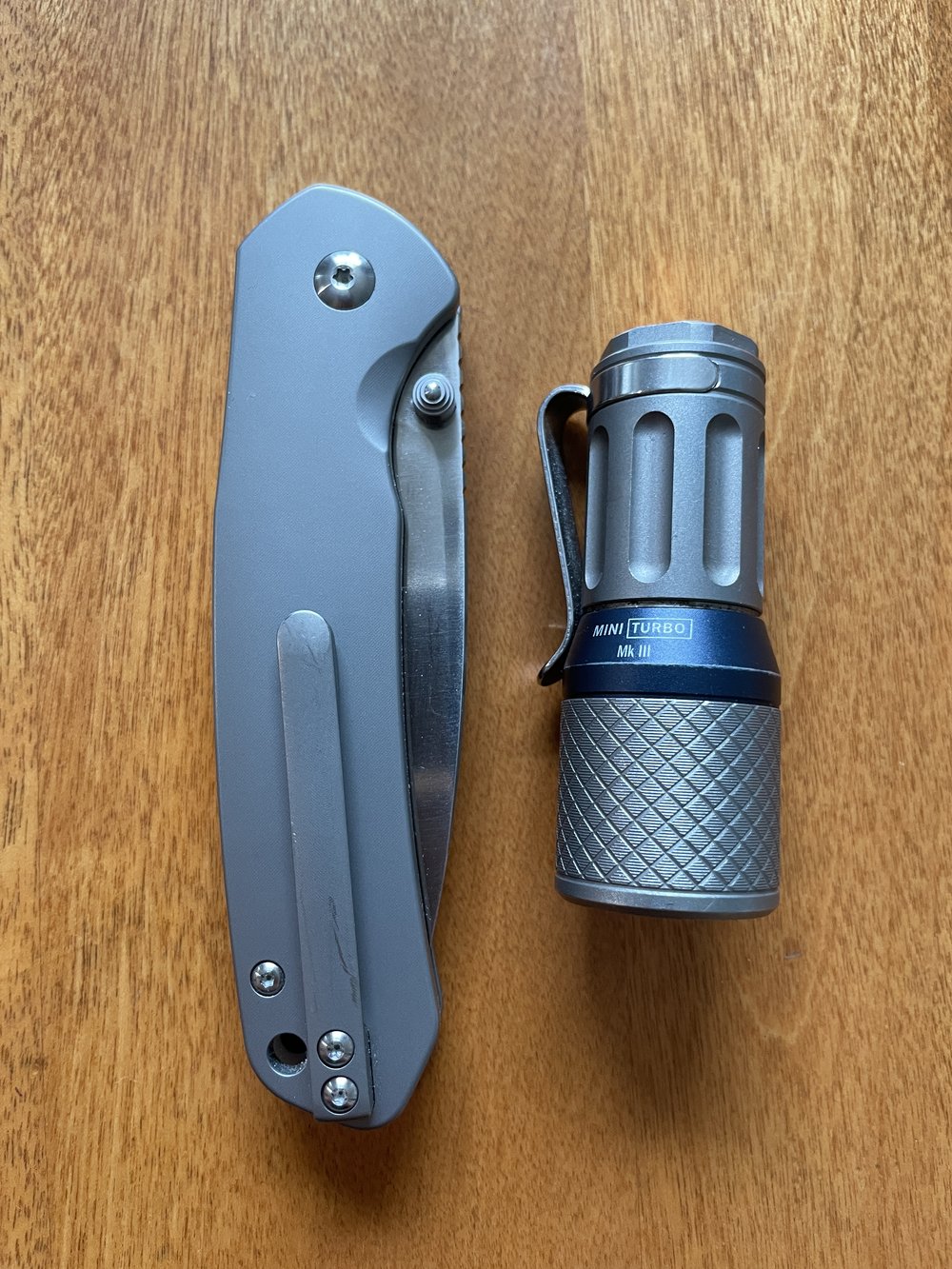 CJRB Pyrite Deluxe Edition, FourSevens Mini Turbo Mk. III
I would have never expected to like the Pyrite as much as I have. The fact that the high end version competes nicely with a Sebenza is an even bigger surprise. The absolutely dialed in button lock is probably the best version of that lock I have ever seen. It is rock solid. The pivot is as a fluid as you will find and the shape is pleasing to both the eye and the hand. This is a great knife. Even the budget version is really solid, albeit heavier.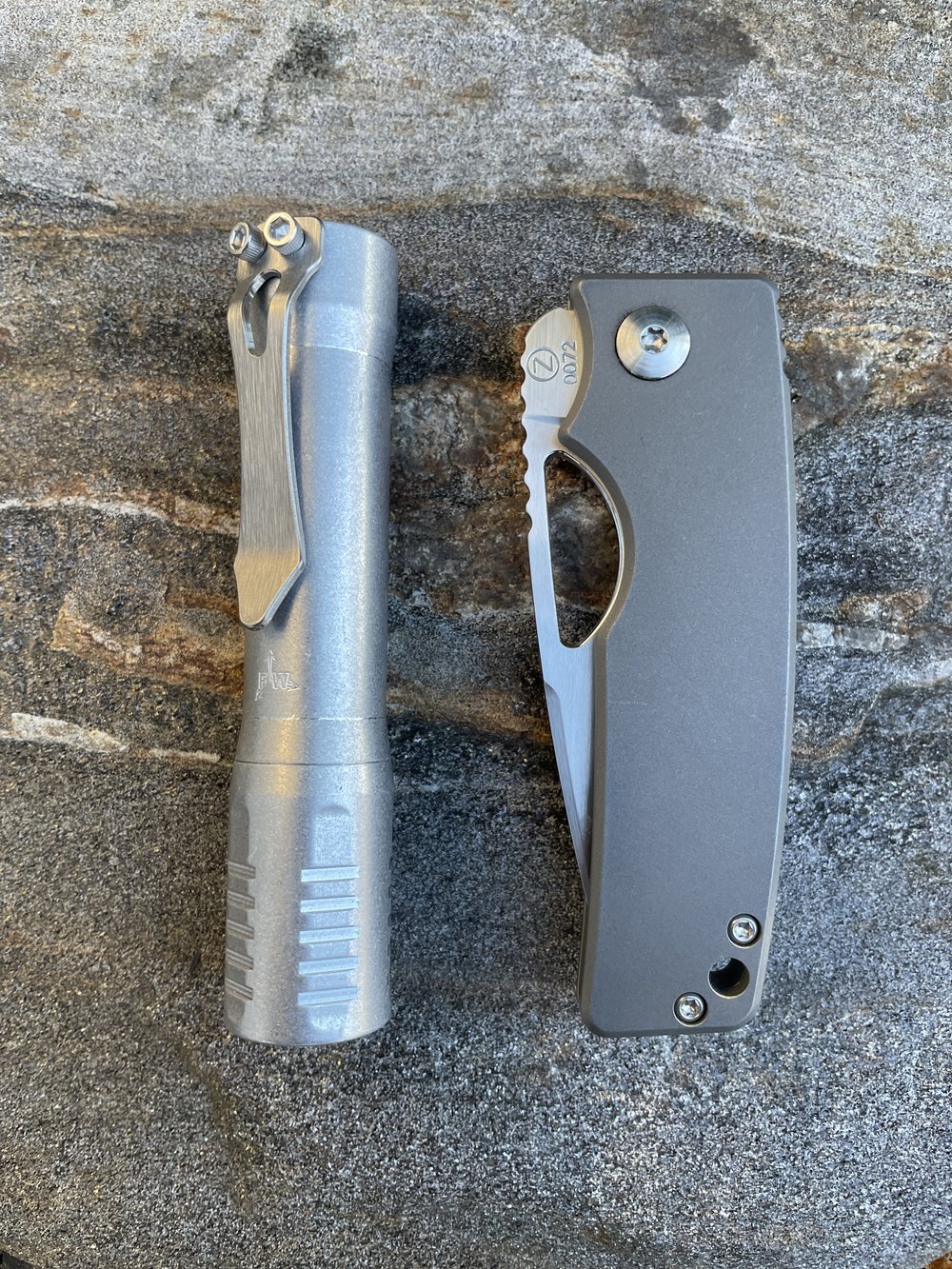 Focusworks F2, Oz Machine Company Roosevelt
If you want a nice small batch flashlight, the F2 is the piece of kit for you. It has all of the refinements and small touches you'd expect in a custom light with a sub-$200 price tag in aluminum. I love this light as has every flashlight muggle I have given it to. The Rosie is gorgeous and smooth. I like the knife quite a bit. I don't think I want to hunt one down, but if they were regularly available for $700, I'd by one.
Amazon Links
Knafs Co. Lander
Demko AD 20.5
Spyderco Dragonfly II
Leatherman PS4
Rovy Von Aurora A2
CJRB Pyrite