One of my absolutely favorite aspects of cutlery is the multitude of endemic forms. From the Nepalese Kukri to the English Barlow, our cultures and places can be seen in our knives. The Kukri's vicious curved blade made it a superb machete for dense foliage as the shape forces the material to the cutting edge. The Barlow's small size and robust pivot made it a superior tool for a working class that was refined enough for pockets but still did tough and dirty work that mandated durability. Over and over again our cutlery tells us who did what how in a way that something standardized like a screwdriver or a wrench fails to do. Because the knife is a tool of versatility and encounters the world both built and grown, its shapes need to be different and flexible given the places and people that use them.
This multiplicity of forms is one concrete example of the benefits of diversity. Problems are a many varied thing and when one tool fails another can succeed. Having many different types of tools allows you to address many different types of problems wether that is rebuilding an agrarian economy after a monotypic crop (like the potato in Ireland) fails or creating a vaccine for a plague in record time. Different perspectives bring different solutions to different problems. And so it is with cutlery. Endemic forms can be brought to bear on new challenges.
One classic example of endemic cutlery is the Shinlin Cutter, an inexpensive folder made in China and later Taiwan (but the same company it has always been made by). The form informed the great Bob Lum in many of his designs, including the Spyderco Lum Chinese folder. The benefits of the Shinlin Cutter form in an EDC knife are obvious—because of its blade shape the edge gets insanely thin, because of the negative angle between the cutting edge and the handle, material tends to bunch against the edge like with a Kukri. Overall, the Shinlin Cutter form is excellent.
Vosteed's Nightshade is a modern reimagining of the Shinlin Cutter. It is a different knife with a design informed by hundreds of years of use from the Kukri to the Shinlin Cutter itself. This design is married to modern features like a flipper, a deep carry clip, and G10 handles. Is the result worth the effort? Let's see.
Here is the product page for the Vosteed Nightshade. There are three iterations—the two LT versions, one with black and one with gray G10 handles, and the upscale version with a bolster and M390 steel. This version costs $69.95 MSRP. Here is a video review. There are no other written reviews. Here is my review sample (provided by Vosteed and to be given away in a charity event):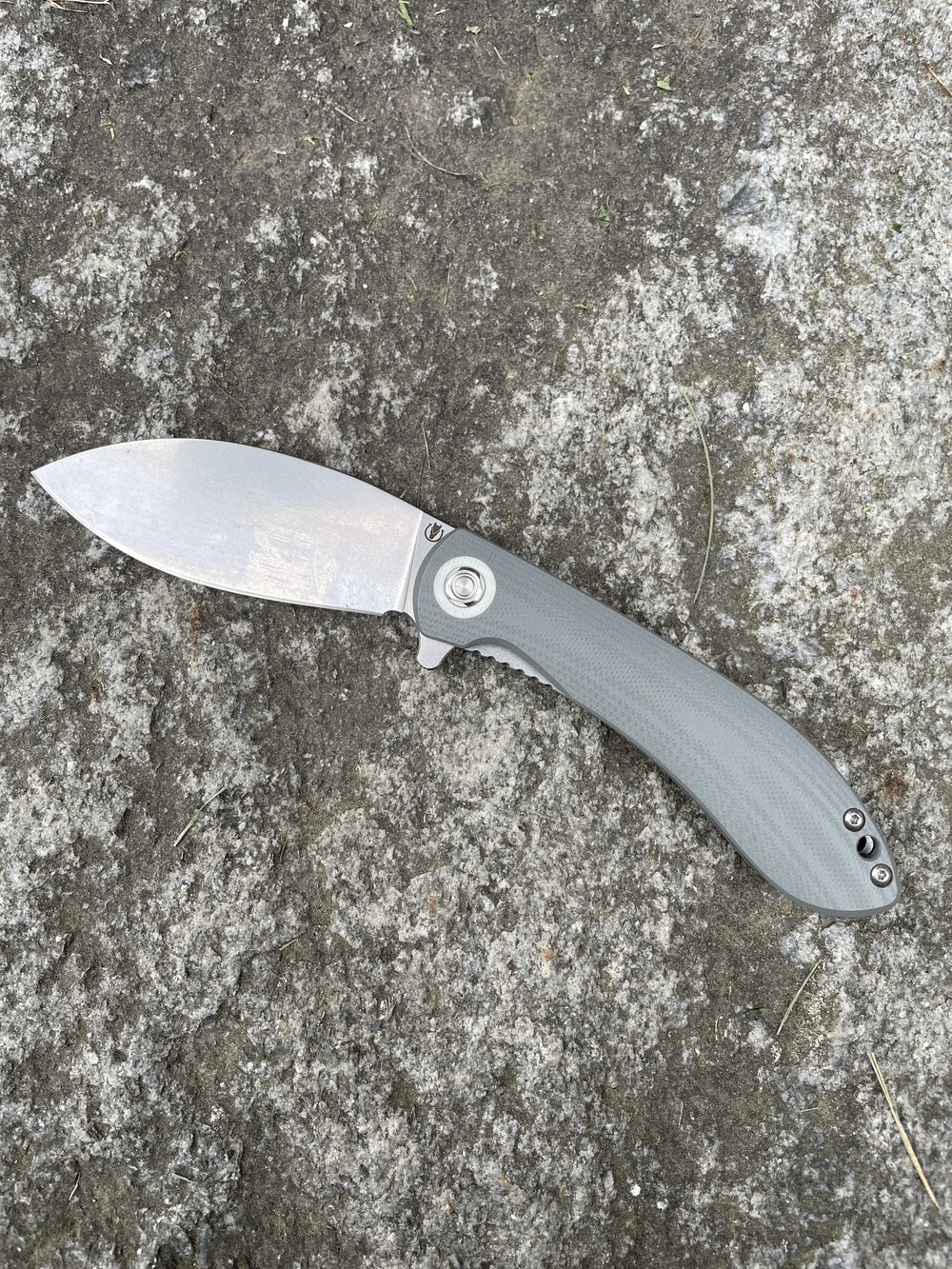 Quick Review Summary: Quirky, inexpensive, well made, and very effective, but not Target parking lot friendly.
Design: 2
Originally from mainland China, the Shinlin Cutter was a slipjoint with buffalo horn handles, a brass bolster, a bail, and four brass pins holding the scale together. First produced by the Kuo family in 1869, and then by the Chiu family starting in 1928, production of the original Shinlin Cutter moved to Taiwan after the Chinese civil war. The knife's blade was fashioned to look like the ever-present bamboo leaf and the design was aimed at squeezing in the maximum amount of blade for the handle. The handle itself was simple and thin allowing for excellent agility in the hand and a wide range of users. As an everyday tool, the Cutter was used heavily for utility tasks, food prep, and pruning. The Chiu family still produces the original designs, albeit with resin replacing buffalo horn in the handles. Knife makers in Taiwan make custom versions with upscaled materials, and production versions can be found with high end steel like Blue and White steel from Japan or Cowry-X. Chiu family Shinlin Cutters are handmade, resulting in small differences between units, and often are found new with buffing compound on the handles and a protective film of oil on the blade and pivot.
The blade to weight ratio is: .78, which is about as meh as it gets. The blade to handle ratio is: .77, which is quite good and underscores just how much blade is crammed into this handle.
Fit and Finish: 2
There is nothing particularly complex here, but what was done to make this a knife was done well. Again, think of fit and finish like a dive in the Olympics—fit and finish is a question of both execution and degree of difficulty. The Nightshade has a high level of execution but a low degree of difficulty.
Grip: 2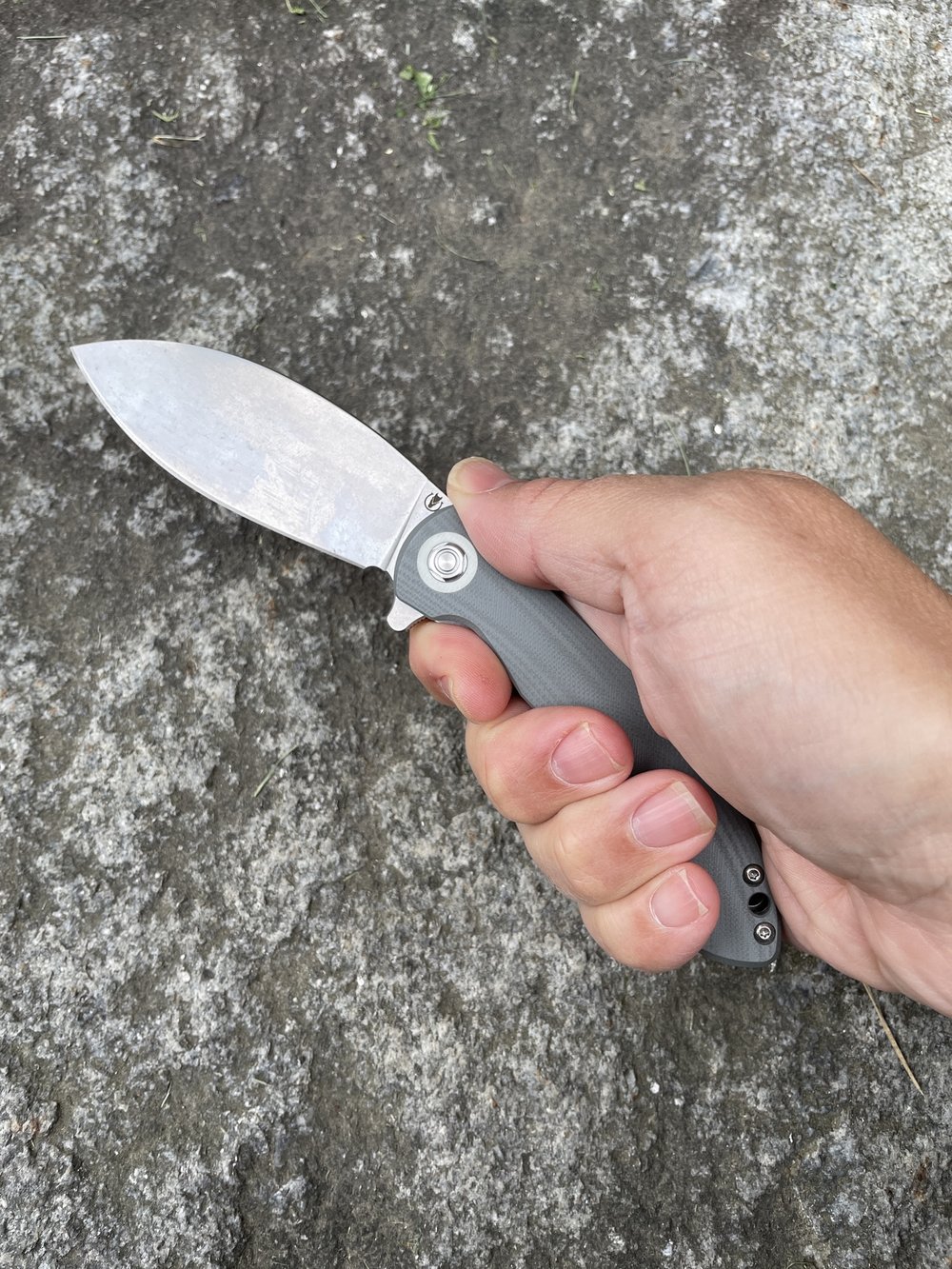 With buttered edges on sculpted G10, there is plenty to grip here and not much that can cause a hotspot. The clip is in the right place and doesn't bump up against bony parts of your hand and the flipper tab gives you something of a speed bump before the edge. Finally, unlike with a lot of knives, the handle here doesn't tell you how to hold the knife allowing for multiple grips from different sized hands.
Carry: 2
This is a very tall knife, as you would expect given the blade shape, but it is not wider than something like a Spyderco Manix 2 or a Cold Steel Recon series knife. The clip is a very simple over-the-top design. Together they make for a very simple but effective carry.
Steel: 1
154CM is not a bad steel. But in an era where the most common steel is M390 it is not going to get a high score. Even something like the powder formulation would do better, but I think the knife world has moved on to powder steels. From here on out, unless there is something really remarkable going on with the heat treat, like Dozier's D2, only powder steels are worth a 2.
Blade Shape: 1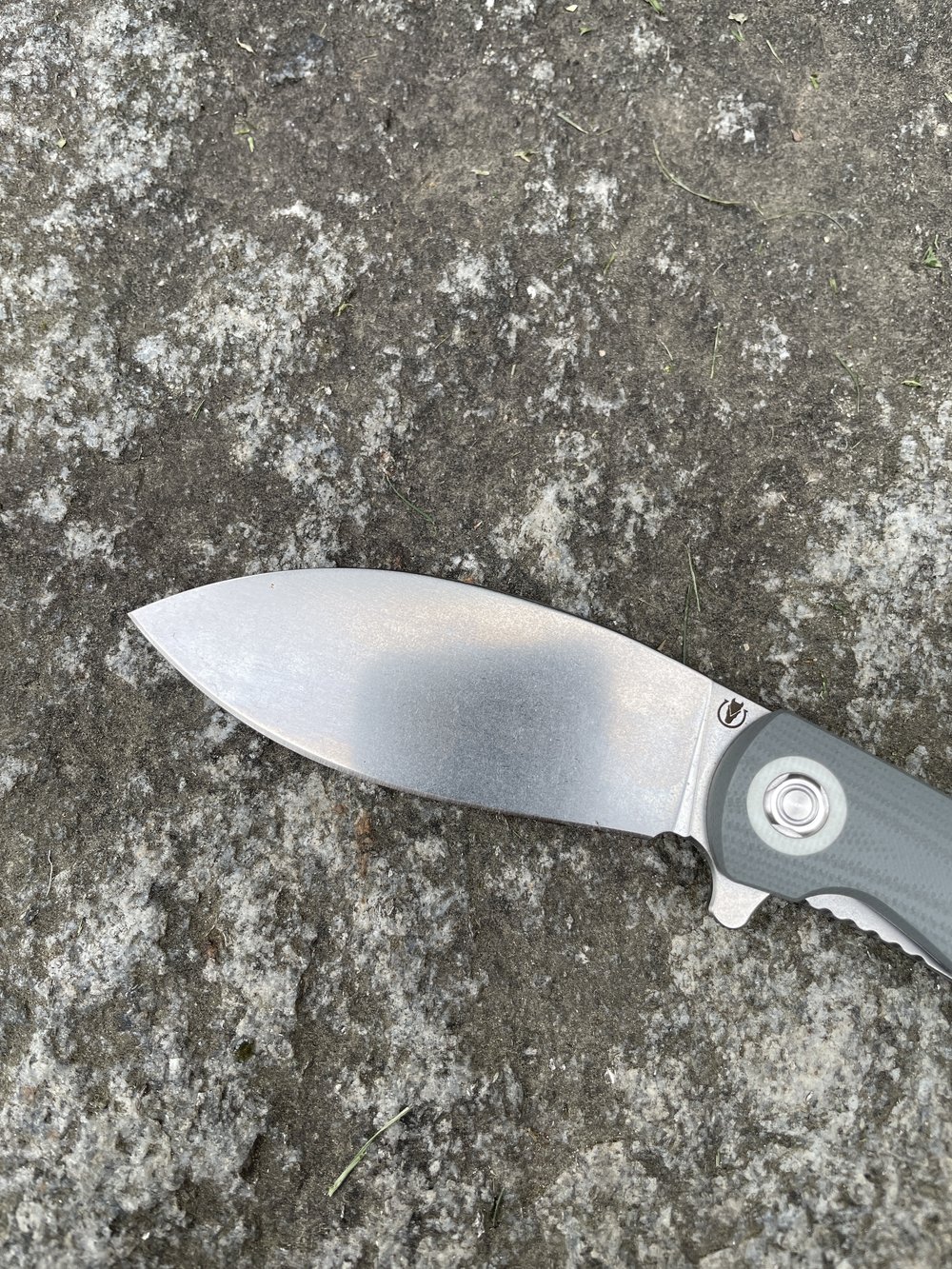 In terms of cutting power this is a 2 all day thanks to a tall, thin blade, but very few people are living in a cabin in the woods miles from civilization. For those of us that have to brave the crowds, this blade shape is so different and aggressive that it really does detract from the overall design. I have carried this knife quite a bit around non-knife folks and the combination of the noise flippers generate and this blade shape makes the Nightshade one of the least people friendly blades I have carried ever. Even some switchblades are more people friendly.
I want to make a quick point about "people friendliness." Sure you can carry whatever you want (check your local knife laws, of course). And yes, I am sure some people take joy in scaring the "sheeple," but that sort of behavior is childish and dumb. Let's carry a knife with a bit of discretion and courtesy, the same way our grandparents did. Do you think Ernie Emerson goes around waving knives out of his pocket in the grocery store parking lot just to scare a family unloading toddlers from a minivan? Of course not.
As a corollary to that rule, how a knife is perceived by others will undoubtedly impact how reasonable people carry it. You won't want to grab that scary knife as often as you would something innocuous like a SAK. If its not cool to bust out at a 5 year old's birthday, its less likely to be carried, plain and simple. So I think it is fair to deduct points from designs that are extremely un-people-friendly. This is one of those designs.
Grind: 2
When folks in the knife industry ask me how to improve designs I always say the same thing: make blades thinner. This is a thin blade and it is also a tall blade and as a result, this is a superb slicer. Around the house or around people that are knife people you can cut stuff all day. I particularly like this knife for Pocket Knife Lunches in the woods. You won't find a folder better at slicing apples, cheese, or sopressata than this guy.
Deployment Method: 1
With a nice flipper and a bearing pivot, the Nightshade deploys quickly and reliably. Its nothing extraordinary given the market. The interesting thing about deployment is that as the Ontario RAT series proves, is not necessarily related to price. I have had some excellent cheap knives and some bad expensive knives. This is right in the middle.
Retention Method: 2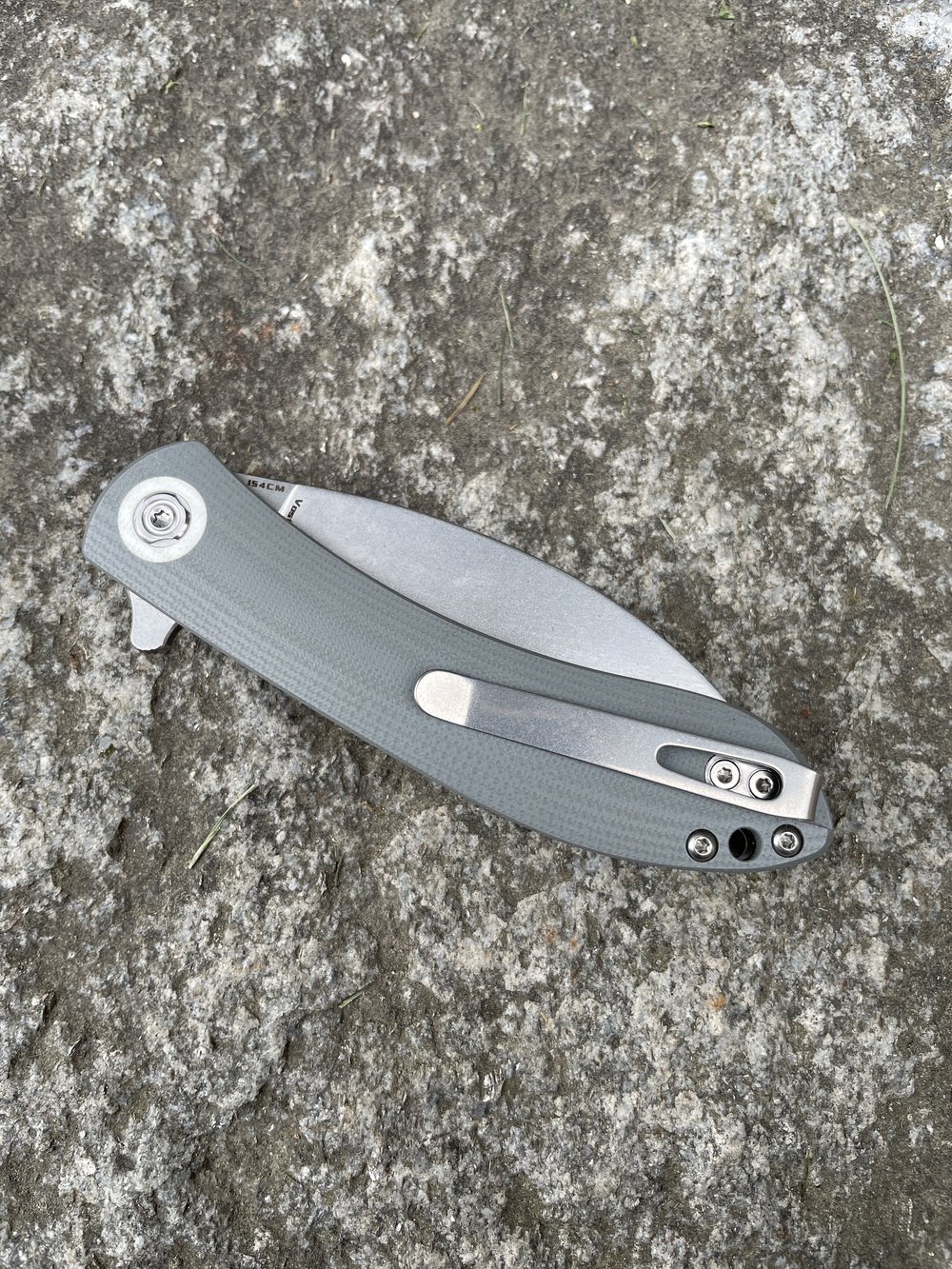 The clip is a no baloney clip, which is what you'd expect at this price point, but it hits all of the requirements—it is tip up, over-the-top deep-carry, and is easily removed. I am still baffled at how some exceptionally expensive knives get this wrong, such as, for instance, the Spyderco Drunken.
Lock: 2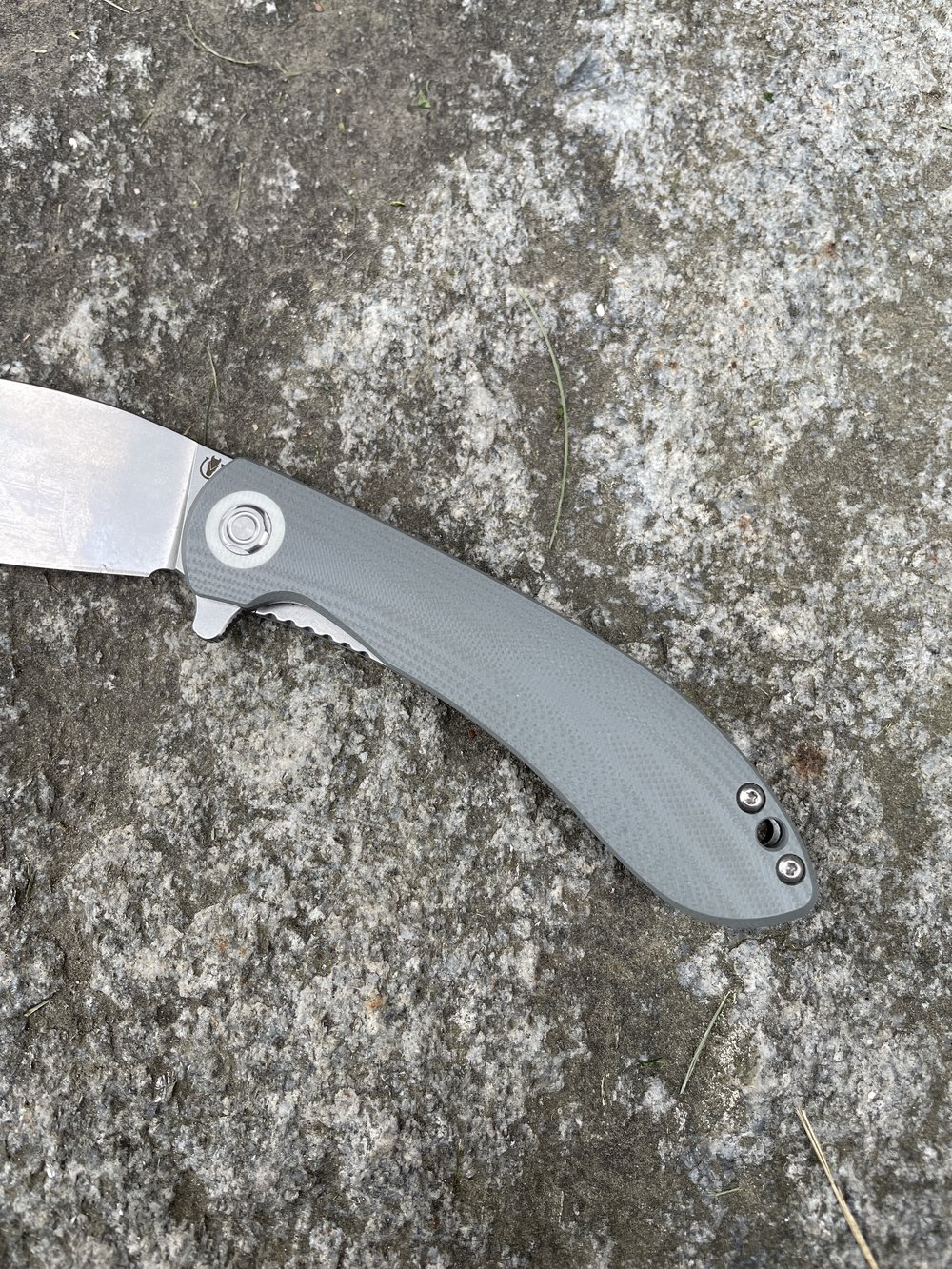 Linerlocks (no space, that is how Michael Walker writes it and he knows…because…well, he invented the lock) are so simple and so easy to do that often folks assume they are thoughtless designs. Anyone that has tried to access a particularly hard to reach one for disengagement knows that's not true. Here the lock works well, there is no blade play on either axis, and there is plenty of room to access the blade. This is just as it should be. Even simple can be hard to pull off sometimes—this rendition of the linerlock is superior to the one found on one of the IKC's favs, the Drift in G10, thanks to good lockbar access.
Other Considerations
Fidget Factor: Very Low
This is a knife that despite being an excellent flipper has such a polarizing appearance that fidgeting with it in public is likely to cause problems. Its just too aggressive looking.
Fett Effect: Very Low
Stonewashed stainless steel and G10…meh.
Value: Moderate
15 years ago this would have been an extraordinary value with the bearing pivot flipper and the materials, but now its merely okay. Civivi makes so many bearing pivot flippers with good non-PM blades that this is lost in a whirlwind of overseas made values compared to something like the brilliantly designed Lumi.
Overall Score: 17 of 20
Those original Shinlin cutters are interesting, but they are bit janky (at least the ones I have handled). If you like that form factor, and there are a lot of reasons to like it, but want something modern, the Nightshade is a great knife for you. It is exceptionally not friendly given its blade shape and size, but it is a truly elite cutter, falling behind stuff like the Spydiechef, which is probably the best cutter in the world right now. This is a good first option from Vosteed and they have more knives coming. If they are this invested in knife history and can continue to nail stuff like clips and locks, they will do well. This is certainly a cool offering, but probably not a knife for everyone. When they make one of those, watch out.
Competition
Compared to the Spyderco Lums this is not my favorite rendition of a modern Shinlin cutter, though it is the only that is readily available. Compared to some more EDC-focused, people-friendly knives like the Civivi Baby Banter, the Elementum, or the Lumi, this knife is not as practical. For people that actually use their knives, you are going to have to buy a Chaparral, which is about twice the cost, to find something that cuts as well as the Nightshade. In the end, the knife is unique enough right now to have no real straight up competitors that are better, but there are good knives of a similar price or slicey-ness.
Amazon Links
Spyderco Manix 2
Cold Steel Recon
Ontario RAT 2
Spyderco Spydiechef
Civivi Baby Banter
Civivi Elementum
Civivi Lumi
Spyderco Chaparral